10th Annual Harpoon Brewery Point to Point Bike Ride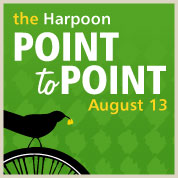 The Harpoon Point to Point is a one-day cycling ride through the state of Vermont benefitting the Vermont Foodbank. Riders choose between three ride levels – 115-miles, 50-miles, and 25-miles – all ending with barbecue and brewery-fresh beer at the Harpoon Brewery in Windsor, VT.
In 2010 the ride raised a record-breaking $123,000 for the Vermont Foodbank, making it the largest single-day fundraiser for the organization. Riders and non-riders alike are invited to the Harpoon Brewery for the post-ride celebration in Windsor.
Date: August 13, 2011
Location: throughout the state of Vermont, ending at the Harpoon Brewery in Windsor, VT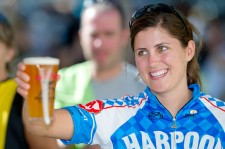 The Harpoon Point to Point was created in 2002 to raise funds and awareness for the Vermont Foodbank's mission to end the growing problem of hunger in Vermont.
Whether choosing to tackle 115 miles from Williston, 50 miles from Bethel or 25 miles in Windsor, all riders will find a beautiful course and great support along the way. Everyone finishes and celebrates together at the Harpoon Brewery in Windsor with hot showers, fresh beer, live music and a delicious BBQ! Family and friends are welcome. Help a neighbor in need and have fun doing it! We hope you can join us for our 10th Annual event!
The Harpoon Point to Point is an event established through a partnership between the Harpoon Brewery, the Point Radio Network, and the Vermont Foodbank. To date, we've raised $318,000!
For more information about the 10th Annual Harpoon Point to Point to benefit the Vermont Foodbank, visit www.harpoonpointtopoint.com.