Dr. Bill Sysak Remembers His Friend Sam Samaniego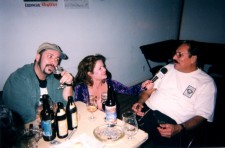 Dr. Bill Sysak, Craft Beer Ambassador at Stone Brewing Co., remembers his long time friend, Sam Samaniego of legendary Los Angeles craft beer destination, The Stuffed Sandwich.
Sam Samaniego was the father of the Los Angeles craft beer scene. I've seen a few tributes to Sam this past week and they all alluded to the fact that he was one of the founders of the LA scene, but let's be honest Sam and Marlene were the first. They started the Stuffed Sandwich back in 1976.
Just like the other early craft beer bars in the US, The Brickskeller in Washington DC, Horse Brass pub in Portland, Hollingshead Deli in Orange, and Goat Hill Tavern in Costa Mesa the initial offerings were not American craft beer. The only craft beer in 1976 was coming out of Anchor brewery in San Francisco, but the owners of these four bars had a passion for good beer before they realized that a craft beer revolution was upon them. Each started out stocking their establishments with the finest imported beers available from around the world, beers like Bass, Guinness, Moosehead, Watney's Red Barrel, and Heineken. We in the craft beer world know the names of these bars because as the craft beer scene started to grow they grew with it. None of these great owners was more passionate than Sam! He was constantly in search of the newest imports that were coming to the US, and traveled up and down California acquiring beers from the newest microbreweries.
I first met Sam and Marlene in the late 80's, 25 or so years ago, when I flew back from Germany, where I was living, to visit my parents in Garden Grove. A friend from LA had told me about this crazy place in San Gabriel that had 500 different bottled beers. The first Saturday I was back I drove up with my brother-in-law, James, and as soon as we walked through the door we knew we were in beervarna! I drank the beer out of the Dixie cup that day before I was allowed to pick it up from the bar, just like 1000's have before and after me, then I noticed Belgian beer glasses for sale. That started a tradition that I have followed ever since, every time we came back I would have everyone in my party buy a glass to use. Sam asked me early on why we didn't just bring back the glasses each time, to which I answered that would be cheating he seemed to get quite a kick out of that.
After that first visit in 1989, I didn't make it back until I moved back to California in 1992, for the next 15 years I would make the hour drive at least once a month usually getting as many people to come with me as possible, that way I could needle Sam into pulling out more of his rare and precious bottles than I could drink with just one or two people. During those years we built a mutual respect and friendship, I was a beer hoarder and Sam was the king of beer hoarders, I almost never left the Stuffed Sandwich without a half dozen bottles to add to my cellar and my newly acquired glass of course. I used to have Sierra Nevada Bigfoot verticals tastings and in 1996 I quickly discovered that I couldn't find any of that years Bigfoot in Southern California, it seems Sam had cornered the market, buying up all of that vintage from the distributor. You should have seen that gleeful smile on his face when I had to work him every time I needed a bottle for another tasting, of course he wouldn't sell me more than one at a time.
Sam I will miss all the pastrami sandwiches with Love added, all the Cuban cigars we smoked together, all the blind tastings, perhaps even after closing hours. I miss all the backroom tastings at the Toronado Barley Wine festival in SF. After we tasted through the 40 or so barley wines that Dave Keene had put on then we would spend the next 12 hours drinking rare beers and smoking cigars with all of our friends from around the country. They would stay a few hours then leave but Sam, Dave and I with a few other brave souls would always stay to the bitter end.  I will miss all the Southern California Home Brewers Festivals in Temecula we attended. Sam used to walk from one end to the other tasting every single beer good or bad. I used to love it when someone would ask him why he tasted every beer, he would get that familiar glint in his eye and say "It's my job".
Sam rest in peace my old friend, for you have surely done a great job!
Cheers,
Bill