Birra Italia: Exploring Italy's Craft Beer Scene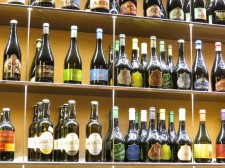 Italy is often regarded as the wine capital of the world; conquering the market from bargain bottles of Chianti Classico to exquisite (and expensive) bottles of Piemonte's best Barolo. However, there is another side of Italian imbibing culture that hasn't quite made a mark for itself in the global scene: craft beer.
It only makes sense that a country that is responsible for some of the best specialty products in the world would participate in the craft beer movement. Among the sea of fine wines, aged Parmesan  and fresh truffles, Italian brewers are on the rise; asserting themselves in a European scene saturated by nearby brewing powerhouses in Belgium and Germany. While Italy has got a long way to go in respects to beer production and establishing itself in the global craft market, there are many brands that are beginning to make a name for themselves beyond the world of Italian macro-beers like Moretti and Peroni.
On a recent trip to Italy, I noticed an emergence of artisan beer producers more readily available. A vast difference from just a handful of years ago. While there are many beer bottle shops popping up around major cities like Rome and Florence (including the Italian mega-store Eataly), I was shocked when I found out the growth of craft beer in this country—blossoming from a mere 40 craft breweries reported in 2005 to nearly 400 today. I took several breaks from sight-seeing and stuffing my face with food to explore the craft beer in various regions and have compiled a shortlist of a few places to grab a decent brew for when you've had your fill of wine and museums. If you have any recommendations for next time or know of a particularly great Italian beer, feel free to chime in.
#1: Open Baladin (Rome): Open Baladin is perhaps the most popular craft beer bar in Italy right now. Established by famous Piemonte brewery Birrifico Le Baladin, Open is practically a haven for those seeking some flavorful Italian beers—and even a few American ones. This beautiful pub features a full menu and tap list of over a dozen Italian beers; from Baladin's own brews to the also popular Birra del Borgo. We visited twice and enjoyed their Super; a Belgian-style Strong Pale Ale so much, it made us forget we'd ever heard of the watery brews from (SABMiller-owned) Peroni. Their food, which had a decent amount of American bar food (think wings, chicken strips, and burgers) also featured a brand new menu from one of Rome's most popular chefs, Gabriele Bonci (notably from Pizzarium). Although not "traditional"-looking, his ravioli version of carbonara is on point. Those looking for other Euro brews may also encounter bottles from BrewDog and Cantillon for sale on their shelves in addition to some US offerings from Dogfish Head and Lost Abbey. Open Baladin is located at Via degli Specchi, 6, Rome, Italy.
#2: Pizzarium (Rome): Just mentioning Gabriele Bonci made me reminisce about his devilishly delicious creations over at his casual pizza spot that takes the traditional pizza al taglio (by the slice or cut) to an entirely new dimension. Killer flavor combinations, quality ingredients, and a mad respect to the traditional pizzas that put this establishment on the map. You walk up, point to what you want, tell them how big of a piece (priced by weight), and you're set to go. The added beauty of this delicious pizza transaction? A fridge full of craft beers—both European and American. I was in glee when I saw California locals Green Flash represented (Hop Head Red) next to a pale from New York's Southern Tier (which we ironically don't even get in California). So stop in for one of the best pizzas of your life and drink a nice craft beer on the sidewalk (because you can do that there). For me, it was Birrificio Italiano's Tipopils, their take on a German pilsner that made my 98 degree day of walking around complete. Pizzarium is located at Via della Meloria, 43, Rome, Italy.
#3: Osteria a Priori (Perugia): My third and final recommendation takes us out of Rome and into the Umbrian city of Perugia to an awesome spot called Osteria a Priori. This little osteria first opened in 2010 and has since been associated with some of the best food in all of Umbria. Their farm-to-table approach means great food (at affordable prices) that is entirely sourced within 100km. Their space is small and features a storefront that carries many artisan goods like truffle oils, wine, and amazingly enough, local craft beer. The region of Umbria often gets overlooked by travelers,but has been getting more attention in recent years. It's close proximity to Tuscany and Lazio make it an ideal day-trip for anyone in Florence or Rome. If you don't have time to indulge in a plate of pasta covered in fresh white truffles, grab a couple bottles from Birra Grifona or Birra San Biagio— both of which offer good palatable beers made less than 40 miles away. Osteria a Priori is located at Via dei Priori, 39, Perugia, Italy.
*An honorable mention must go to a fantastic international bottle shop in the hip Roman neighborhood of Testaccio. If you can make it over there, definitely stop into Il Birrivendolo to peruse their stunning store and pick up some dependable brews from Birrificio del Ducato (their Beersel Mattina helped ease my craving for something just a tad sour with a bit of funk). Il Birrivendolo is located at Via Aldo Manuzio, 12, Rome, Italy.