Big Mike Tackles The Craft Beer Cookbook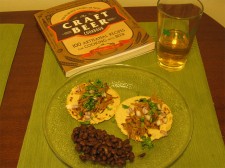 I received a beautiful surprise in the mail last Friday. A brand new copy of, "The Craft Beer Cookbook", by Jacquelyn Dodd, aka, The Beeroness. With such a busy schedule, school, side jobs, motorcycle repair, etc., I didn't get a chance to really peruse the 100 recipes until a few days ago. The book is very well written, and includes all sorts of wonderful information about craft beer and cooking, for newbies and veterans alike. This is a great book for someone who doesn't cook very much, but digs on the craft beer. The recipes are laid out pretty well, they're easy to understand, and they all have beer in them, perfect. The book ranges from breakfast to dinner, seafood, bread, appetizers, everything in between and all the way to dessert. I can honestly say, I plan on cooking most of these recipes. I will point out that I have had a few years of cooking under my belt, and I almost always put my own spin on a recipe, but you don't have to, these recipes work very well as is.
The missus and I settled on the beer braised pulled pork with beer tortilla recipe, and we were glad we did. I even went out and got a new dutch oven, ours was a little small, and I saw a good deal at a local discount store. The braising beer was a Stone Smoked Porter, excellent choice, highly recommended. I did deviate from the recipe on the tortillas, we like corn more than flour, but hey, to each their own. The beer I chose for the tortillas was a Ballast Point Pale Ale, which I believe has lost the Yellow Tail in it's name, same great beer, slightly different packaging, and you get to drink the left overs, yum.
Since I had the time, I decided to make a fresh salsa, with most of the ingredients coming from our garden out back. I then took it a bit further and made some of my dad's famous, well, not so famous Boracho Beans, black beans cooked in some Young's Double Chocolate Stout, slightly reminiscent of a Mole Poblano.
This was by far one of the easiest recipes I've tackled. The house smelled so good for hours, the meat was fall off the bone tender, and so savory. Making your own tortillas is also way cheaper than buying a dozen at a time, and they taste incredible with beer in them, I'm going to try a Heffeweizen next time, just to up the floral notes a bit more. It is a little time consuming, especially if you're trying to be Herman Homemaker, but it is well worth the effort. I'm a big fan of this book, I consider it a must have, the recipes will make you hungry just from reading them. Next up, Apple Cheddar Beer Pancakes. Stop drooling, go out and get the book, cook up some recipes and share with us.
Make sure to check out more of The Beeroness – thebeeroness.com – @TheBeeroness – facebook