The Ultimate Two Day Beer Adventure in Philadelphia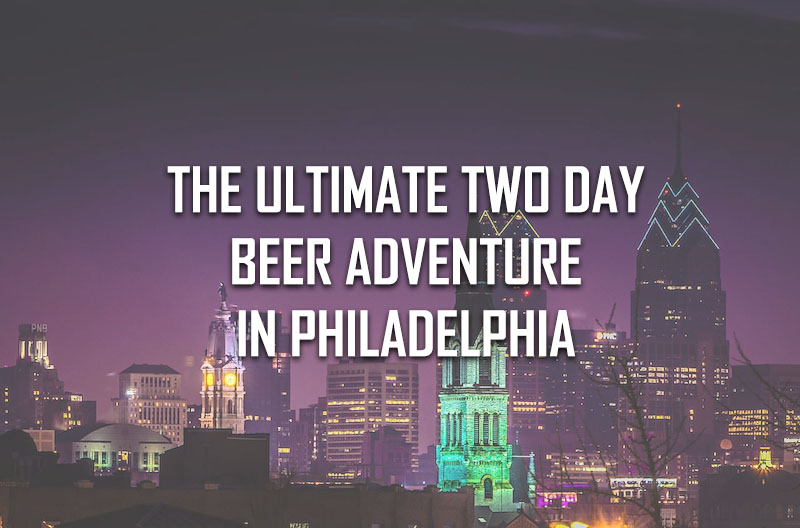 I grew up in Gloucester County, New Jersey, a stone's throw away from Philadelphia. Outside doctor appointments and Phillies games, my family didn't take us to Philadelphia that often. It would seem that traffic, parking, tolls are still a deterrent for many South Jersians, and I get it, it's a way different pace.
A few weeks back, I decided I was going to take a beer vacation to Philadelphia. I was there last summer and the spring before that for the Craft Brewers Conference. I fell in love with a city that I lived 20 miles from but never really knew. For many years, Philly was known as a "beer drinking" city that had room for improvement as far as actual breweries go. Outside of legendary Monk's Cafe, Yards and Dock Street, Philly was more known for the great beer they could procure from the rest of the country. All of that has changed.
The first thing I did was set myself up for safety and success. I booked a room at The Hilton Garden Inn on 11th and Arch. This put me at The Reading Terminal Market and Jefferson Station. I'm not talking about a few blocks away here, I'm taking about walking out of the hotel lobby and I can either eat some magnificent food at the market or hop a rail at the station.
Forest and Main Brewing – 61 N Main St, Ambler, PA 19002
First on my itinerary was Forest and Main Brewing. This is a farmhouse brewery in Ambler, PA. To get there, I took a $6 train ride going 40 minutes northwest of Philadelphia. Forest and Main is a three minute walk from the Ambler Station. Once I arrived, I saw the most picturesque neighborhood and on the corner of, you guessed it, Forest and Main, was a beautiful home converted into a brewery. Around to the left side of the literal house is a room that holds the actual brewing equipment. Much like what you'd see at Tired Hands Brew Cafe, there is a small footprint of repurposed dairy equipment, and inside, some very hard-working brewers.
Largely, Forest and Main brews open fermented, mixed culture saisons, and they are incredible. Owner/brewer Dan Endicott, gave me a tour from the back of the house to the tasting room up front. Being familiar with old houses back east, I wasn't surprised that they have barrels resting in concrete rooms and pallets of cans.
I was lucky enough to sample many of the saisons right before a can sale started. They were all full bodied yet crushable, as none of them were over 7%. Recently, Forest and Main has caved into demand and begun brewing cloudy IPAs. I got to sample them as well, and many were brewed with their farmhouse yeast, which made the beers much more complex than your typical NEIPA. I wanted to stay longer, but I was a bit out of it from my red-eye flight, so I headed back to the city to eat some dinner at the market before hitting my next spot. I look forward to returning for a longer session and to grab a bite to eat next door the next time I'm there. My take away was great people, great beer, gorgeous location.
Crime and Punishment Brewing – 2711 W Girard Ave, Philadelphia, PA 19130
Some locals at Forest and Main recommended I check out the fairly new Crime and Punishment Brewing. This was a three mile Uber ride from my hotel, as this was too far for me to want to walk. Crime and Punishment is a pretty small tasting room with a L-shaped bar and a little bit of standing room. While I didn't see any brewing equipment, that's only because I wasn't in the mood to go in the back and geek out.
I parked myself at the bar and looked at a very small beer menu consisting of four or five beers. I had the pilsner, Palinoia, that was perfect. I then went to an English Bitter called Bedstraw Crane. It, too, was perfectly executed and delicious. I indulged and had their hazy double IPA called My Five Favorite Things. I also had a small pour of their Russian Imperial Stout, Gulag Uprising, which was perfect as well. I had already eaten dinner, but I wished I hadn't. Right at the bar was an open kitchen, and the locals there told me they just got a new chef. Their theme is a modern take on Russian cuisine. The prices and items looked great. I did order their pickles off the appetizer section, and they were bright and spicy. I would definitely return, I hope they can find a way to have more beers on tap at one time.
Second District Brewing – 1939 S Bancroft St, Philadelphia, PA 19145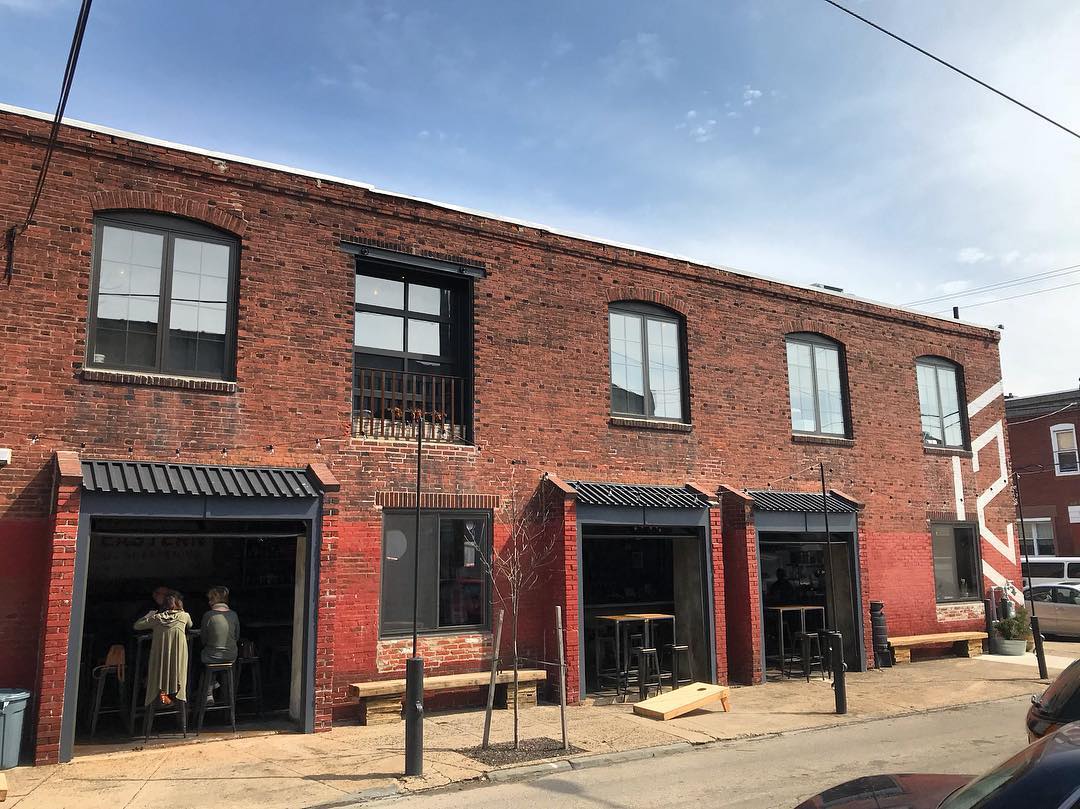 Last summer after we brewed at Tired Hands Brew Cafe for our 10th Anniversary collab, we were sent over to Second District Brewing on recommendation. Of note, the head brewer is former brewer Ben Potts from Tired Hands. Last year, I thought the lineup was a bit too experimental (read adjunct laden), but I was told by many customers at Crime and Punishment to give them another look. Second District is decorated with the typical hipster decor, Edison bulbs, chalkboard menu, etc., but this place is super dark. So dark, that I second guessed whether it was open or not when I got out of my Uber. On a Friday night, the place was absolutely packed, so I had to park myself at a little shelf bar. The beer menu had doubled since my visit a year prior, and there were more straight forward offerings. I really enjoyed a Mosaic Pale Ale, a Pilsner and ended it off with a Vietnamese Coffee Stout with Vanilla Bean.
Garage Passyunk – 1231 E Passyunk Ave, Philadelphia, PA 19147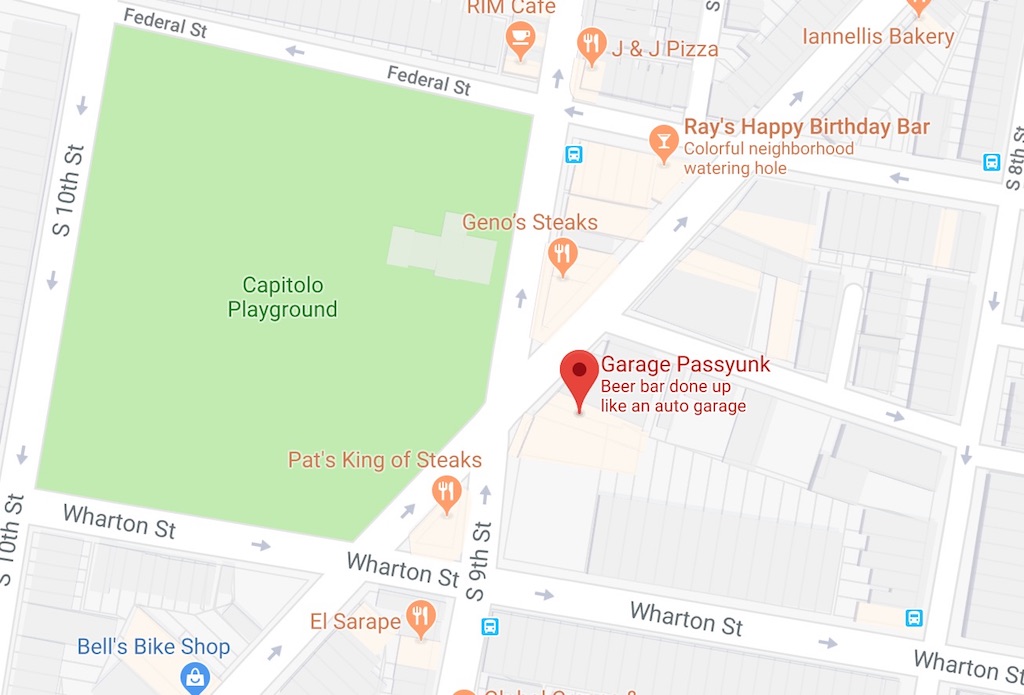 Everyone has a "bad decision / last stop" place in their repertoire. In San Diego, it's always been Monkey Paw Brewing or Hamiltons. You know, when you could call it a night, and you should call it a night, but you don't. Garage Passyunk is that place to go in Philly for that last stop. It's right across from world famous Pats and Ginos Steaks. It's a can and draft only bar serving an enormous variety of craft beers. It draws a younger crowd, and it's tons of fun. There are lots of beers to pick from, many of which are national brands. If you were already thinking of getting a cheesesteak, pop on in for a few beers here.
Tired Hands Brew Café – 16 Ardmore Ave, Ardmore, PA 19003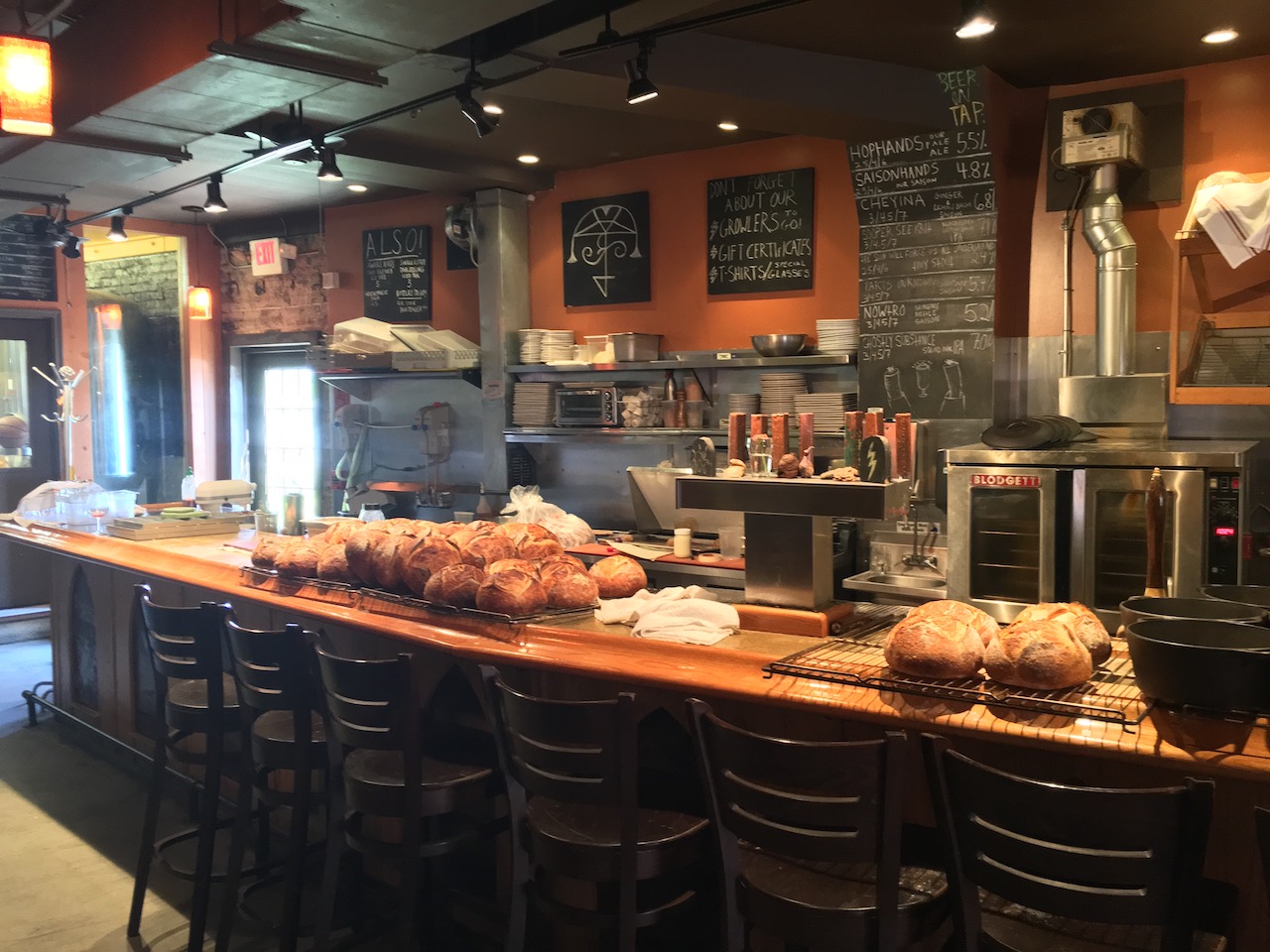 This was another easy ride from Jefferson Station. I've been a Tired Hands fanboy since they opened up and rightfully so. I had sent my parents to check it out, wondering if they would like the beer or not. Well, they fell in love with the place before I could make my first visit. While there is the Brew Cafe and the Fermentaria, I prefer the Brew Cafe as it's more intimate and has a food menu that caters to my heart. The Fermentaria is cool, but you are in a production brewery that happens to have good food and beer, whereas the Brew Cafe makes you feel like you are in heaven.
Early each morning before the doors open, Tired Hands bakes loaves of rustic bread using cast iron Dutch ovens. I dream of this bread and it was the first thing I ordered before even ordering a beer. They serve slices of it with soft butter, large crystal sea salt and cracked pepper. If you are smart, and they have some left, you can order a loaf to go. I began ordering half pours as I knew I had more brewery hopping a head of me that day. This is the only case where I really appreciate experimental beers, beers loaded with weird adjuncts, odd grain bills and finishing treatments. Sure, you can get one of their famous hazy IPAs, but they absolutely kill Saisons, lagers and just about any other style you can think of, with an imaginative twist. That Saturday, they even had this bizarre beer on called Stony Bologna, a sweet Lebanon Bologna inspired barleywine with orange peel and vanilla bean. I had a pour of that "life", then had the cask version with double the adjuncts. For those not familiar with Lebanon Bologna, it's a salami-like meat made in Lebanon County in PA. It's fantastic and I love it. I grabbed a loaf of bread to go, got a crowler fill of Cream Ale for Father's Day, went next door to get a bottle of rustic lager and headed back on the train back to the city.
Yards Brewing – 500 Spring Garden St, Philadelphia, PA 19123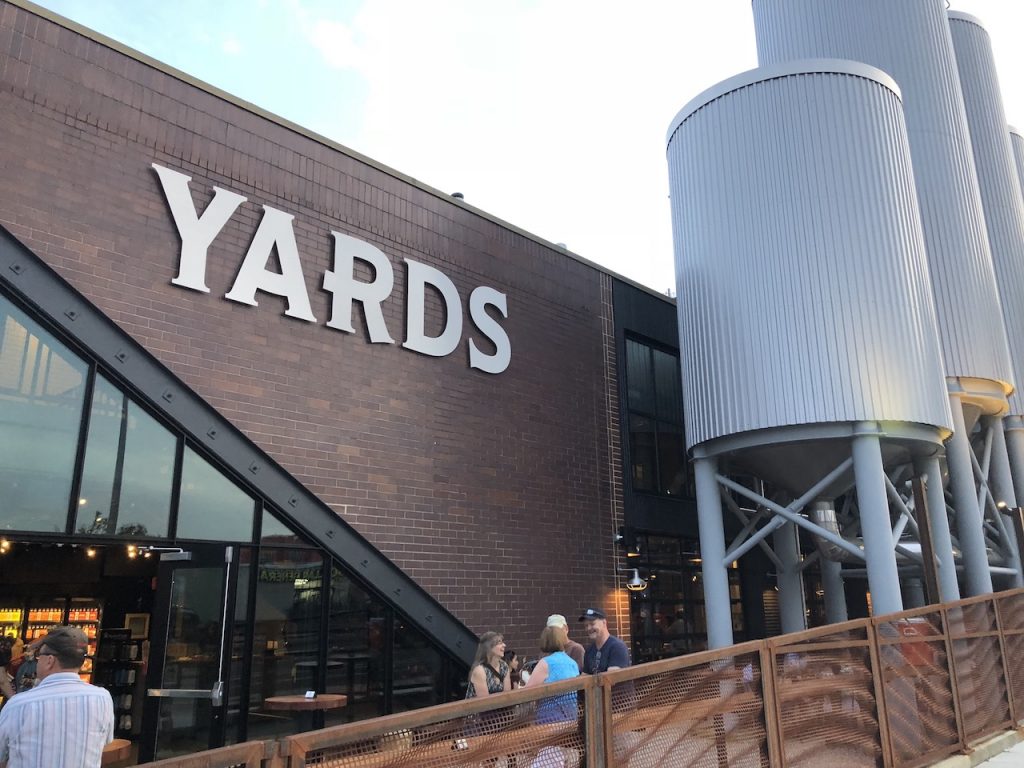 Yards Brewing has been around since 1994. I remember seeing their beers before I was old enough to buy beer legally in New Jersey. They are the example of a brewery that hasn't changed a thing and more importantly, hasn't needed to. I had great visits at Yards the last two times I was back home, but their giant factory-like brewery was a little off the beaten path in the Northern Liberties section of Philly. To my surprise, they moved to Spring Garden St. and launched a full-on restaurant, which in my opinion was needed. You have to know what you are getting into when you go to Yards. You won't get a West Coast IPA, a Session IPA, a New England Style IPA, a pastry stout. What you will get is an English Bitter, an English Style IPA, a perfectly executed Stout, a lineup of Tavern Ales that pay homage to our country's forefathers, and a short list of experimental / one off beers. Those experimental beers are never too crazy and still stay within Yards' wheel house. They serve beer flavored beer. They had a nice, focused menu that was reasonably priced. They did a great job on the new spot and it's a nice place to drop in for a beer and a bite. On my way out, I asked the bar manager where my next stop should be. He told me without a blink, Love City Brewing, which was in walking distance.
Love City Brewing – 1023 Hamilton St, Philadelphia, PA 19123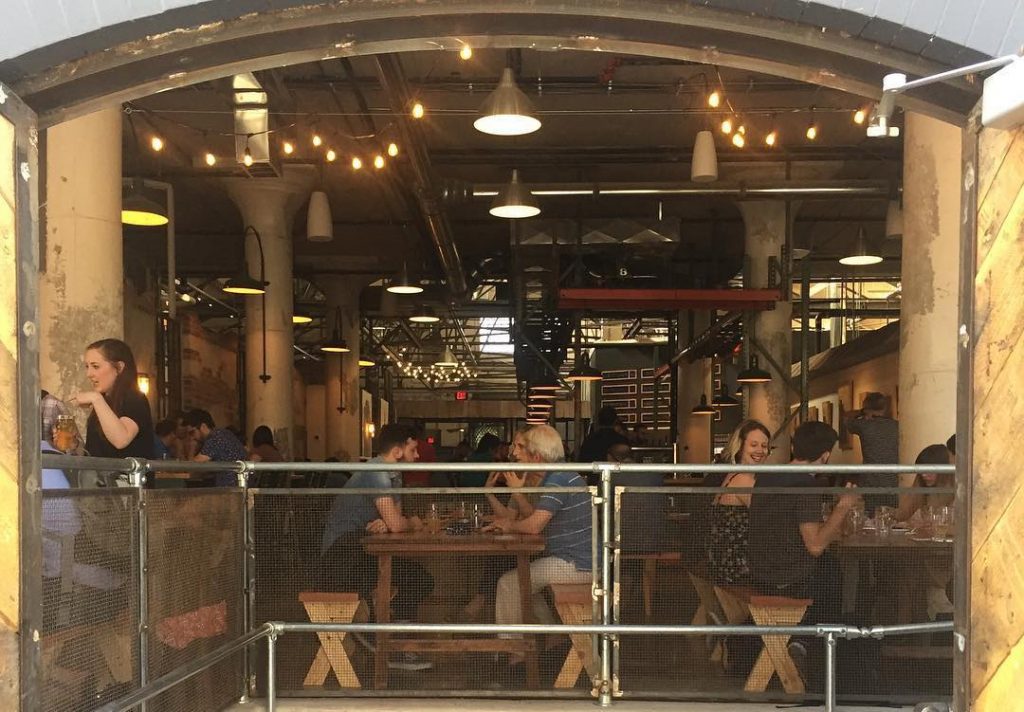 After a 10 minute walk from Yards, I found myself at the TWO-MONTH-OLD Love City Brewing. This place was pretty packed for a Saturday night, filled with young drinkers having the time of their lives. While Love City doesn't have a food menu, they do have a brilliant concept for a snack menu. They have a "all you can snack" option, so if you want say trail mix or popcorn, you pay once and if you really need to graze the whole time, they have your back. What blew me away was their beer menu. They had a three core beer lineup, consisting of a light lager, an IPA and a wheat beer. Then they had nine "seasonal beers" that consisted of the most popular styles you would want to drink. I started out with Pathways Pilsner, as I am on a pilsner kick lately. The entire bar staff was super friendly, nice and engaging. I really felt welcomed here. The beertender I had for my stay was an insanely nice woman, who I think must have been the owner due to how great she was with me. I moved on to their Brut IPA and it was everything I wanted and more. Think about this for a minute. A two-month-old brewery knocking one of the newest beer styles out of the park. It was getting close to closing time and I was in no mood to hunt down the brewery to gush over the great beer. Hopefully someone shares this article with them, I only see great things for this brewery and Philadelphia is lucky to have them in the beer community. I will certainly be back.
If you are a Philly or Jersey native, you are probably grunting that I missed a dozen or so great spots. You are absolutely right, I did, but for 48 hours in Philly, I think I did alright and I look forward to coming back real soon.