Stone Oakquinox 2013 – Recap W/ Pics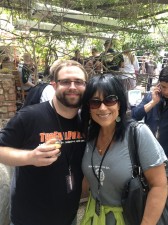 This past Sunday, The Full Pint made our way down to Stone Brewing World Bistro & Gardens to attend Stone Oakquinox.  For those that aren't familiar, this is an epic event featuring over 100 wood and or barrel aged beers.  We've been to many Stone events, and this, along with Sour Fest, might be our two favorites.
Imagine all the expensive beers you would love to try and buy, but don't have the time and money to acquire.  I kid you not, Dr. Bill gathered them under one "roof." There are valid reasons why one couldn't make it to an event on Sunday, that amazing lineup should never be one of them.
Stone gave each attendee a commemorative glass and a pamphlet listing out all the beers and what stations they would be served at.  Jonny and I started at Station 1, and began sampling with joy.  Beers from Mikkeller, Struise and Stillwater have been stuff we've been meaning to try, but are a pricey risk at $15-$30 a bottle.  Those were the ones we made sure to try and for the most part, were not disappointing.  In between ticking new beers, we were able to sample old favorites that never get old like Russian River Supplication and Temptation.
By about 1PM, the place was completely packed, and I had made sure I had tried all the beers I wanted to and migrated to the famous Dr. Bill bottle share in the gravel pit.  In between generous offerings from like-minded beer geeks, we'd go back to a near by pouring station to finish out our punch card of tasters.
The people were all chill considering how strong the beers were. Snacks and water were very accessible and probably played a role in people's longevity. The biggest compliment of the day I can give would be the diversity between wood aged Imperial Stouts, Belgians and Sours.  Without looking back on previous year's lists, it seemed it used to be Imperial Stout and Barleywine heavy.  Going around the horn with the styles I mentioned helped my palate not get too fatigued after 3 samples.  Anyone who hasn't gone to this should consider going next Spring.