Quick Recap of The Bruery Black Tuesday 2012 Celebration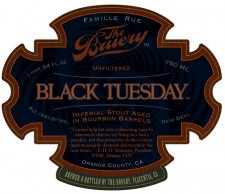 Many breweries around the country honor a big Imperial Stout one way or another. You got your Dark Lord Day, Darkness Day, Hunahpu Day, Kate The Great Day and more. Last night I was fortunate enough to attend my fourth Black Tuesday Celebration at The Bruery's tasting room in Placentia.  Unlike some of those rowdy midwest releases mentioned, The Bruery has kept this a very consistent and intimate well ran event.
There was a short line to get in to the party inside their freshly renovated tasting room, and once I got in, there wasn't a line to get any of the special versions of Black Tuesday or Black Tuesday itself.  The Bruery also provided specialty glassware instead of giving us dorks our hundredth Bruery tulip/tasting glass. Very nice touch!
So once I said my hellos to friends, I had to dive into the special versions of Black Tuesday.  I went right for Banana's Foster Black Tuesday on cask. That captured my imagination and just sounded incredible.  I had anticipated it to have a large banana nose, which it didn't. Whatever is mixed in with Black Tuesday has to be as over the top or bigger than Black Tuesday itself in order to get some attention from my beak.  There was some banana in the nose, but much more Black Tuesday than anything.  It tasted wonderful, and immediately got the blood flowing.
By the time I finished my first sample, I noticed the volume of the room got exponentially louder.  19% abv beer will do that.  Everyone was smiling, chatting, laughing.  Seemed like a much funner crowd than previous years, or maybe the new tasting room and it's brighter lighting played a part?
Moving on to the the Coffee and Vanilla Bean Black Tuesday was my next mission.  All my friends were ooohing and ahhhing over it.  I'm very picky with my coffee beers, as many brewers final product tastes like spent grinds and or stale coffee.  This beer couldn't be farther from either of those detractors.  Think of the dankest darkest coffee freshly ground and steeped into Black Tuesday.  It was amazing.  The vanilla bean was an after thought. Between the dominate coffee and monster stout with it's own vanilla like profile, it really didn't pop out at me.  The Bruery has been working on different coffee based projects from what I've heard, and they seem to have a great handle on it.
Those were the two biggies I wanted to try, and take notes on, so after those two, I relaxed a bit and mingled some more.  I was able to try Black Tuesday 2011 Vintage, Chocolate Rain, Grey Monday and of course, the 2012 Vintage of Black Tuesday.  In between that, would be a bit of Hottenroth Berlinerweiss to refresh. A really nice touch, and way better than tap water.
As part of entrance, was a ticket to get an appetizer from The Lime Truck, a favorite gourmet food truck of The Bruery.  As luck would have it, The Lime Truck ran out of food almost an hour and a half before the event ended, leaving a portion of room full of buzzed beer drinkers without a bite to eat. In a smart and classy move, the staff of The Bruery ordered up pizzas and ensured those who needed something in their belly would be taken care of.
We didn't get many non-blurry photos so sorry about that . We have a few on Instagram for your enjoyment.