My Heart is in Philly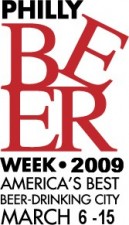 Growing up 20 minutes east of Philadelphia, drinking 30 packs of Busch beer, the thought never crossed my my mind  that I was so close to one of the best beer cities in the world.  Fast forward 10 years later, and after reading what we have posted to promote Philly Beer Week 2009, and it makes me sad that I am missing out on possibly the biggest beer week East of the Mississippi.  With so many little pubs, beer bars, dives and small craft breweries, there is no way you could not have fun this week in Philly, if you are a beer lover. I feel a strong vibe that craft brew is close to it's peak in interest, and that there is strong energy going into this years Philly Beer Week because of the grown enthusiasm.
What is cool to me, is how many guest craft brewers flew out to take part in the festivities.  I have a list of favorites, but off the top of my head I know that Patrick of the Bruery, Marty of Oskar Blues, and Chuck of Green Flash are all on hand.
While I can't provide a rich history lesson of craft brew in Philly, I can imagine the beers these three brewers are introducing to the locals will impress the tastebuds, as there aren't east counter parts to The Bruery, Oskar Blues or Green Flash. Every city should have their own unique style, and at the same time, borrow some of the best traits from other regions.  It should be interesting to see what relationships develop this week for two reasons: What the west will bring to the east, and what the east will bring to the west.  I can think up many dream collaborations, featuring Tröegs, Victory, Erie, and even the smaller brew pub, Nodding Head.
In order to accommodate all this beer, folks at Philly Beer Week will be in heaven in the food department.  I have tried Gino's and I have tried Pats (Cheese steaks). You can't go wrong with either, but after waiting 30 minutes in line, standing in the middle of oncoming traffic, make sure you order yourself two sandwiches. After all that waiting, you will sit down, and inhale your steak, and feel almost unsatisfied.  Southstreet has Jims, which makes a slightly different steak from Gino's and Pats, but just as great.
Have you joined in the fun at Philly Beer Week, or do you wish you had like me? We'd love to hear your feedback by using the comment feature.