Stone 13th… Ticket Sales Start March 1st!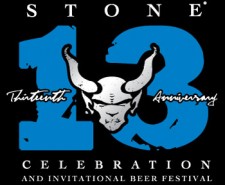 Hold the date, mark your calendars, and spread the word because the biggest craft beer festival in Southern California is returning for another year. On August 22, Stone 13th Anniversary Celebration & Invitational Beer Festival is once again storming the beautiful campus of Cal State University San Marcos for another glorious day of craft beer drinking merriment.
In a continuing effort to make this event the best of its kind, we have listened to all the feedback from the Stone 12th Anniversary Celebration and have taken steps to make sure this year's event flows smoothly, and that the general crowdedness is kept to a minimum. We're also encouraging the guest breweries to bring much more select styles of beers, and Stone will be doing the same.
With all the great beer, great people and great food it's easy to forget that the Stone 13th Anniversary Celebration is in fact a charity event. Your $35 charitable donation buys admission to one session, a 13th Anniversary tasting glass and 10 "tasters." Last year with the help of all you beer drinking humanitarians, we raised over $150,000! Tickets go on sale March 1st online and in the Stone Company Store*. We will be posting directions, a list of guest breweries, featured foods, a list of charities and more on this site, so stay tuned.
*Ticket price will increase to $40 in the last week of ticket sales (August 15th – August 22nd)
Click Here to checkout TFP's coverage of last years festivities