The Full Pint's 2013 Craft Beer Holiday Gift Guide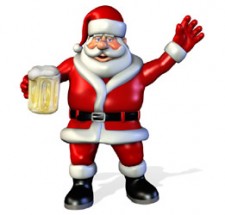 As lovers of craft beer, we bring to you, The Full Pint's 2013 Craft Beer Holiday Gift Guide.  Forwarding this to your significant other sooner than later is probably a good idea, if you hope to get these gifts under the tree or Menorah this month.  Of note, we have no stake in the companies and products outlined below, these are gifts we believe any beer lover would be happy to receive this holiday season. Cheers!
Brewery Tour Bus Trip – Now that the craft beer revolution is in full swing, many metropolitan areas have A) Multiple craft breweries and B) multiple fine craft beer bars. Rather than being irresponsible and driving, or busting your wallet on a taxi, take a trip on a brewery tour bus ride.  Here are some quick queries on the Google as an example, you can do these for any city or region. Los Angeles  San Diego  New York City  Chicago
Gift Card to Bevmo, Total Wine or InsideTheCellar.com – Just because you love that special someone and you know that they LOVE craft beer doesn't mean you have any business picking out beers for that person.  Find out what the big warehouse retailer is in your area, and get a gift card that can be magically turned into beer.  Total Wine is one of the biggest liquor store chains I can think of, California has Bevmo, New Jersey has Joe Canals, you get the idea.
Water: A Comprehensive Guide for Brewers by John Palmer – I've spoken with home brewers and pro brewers and have heard nothing but rave reviews for this book. Considering that water is 1/4 of most beers, this is an eye opening book for any brewer to read.  Link to Amazon
Firestone Walker Corn Hole Board – Any corn hole board will do, this Firestone Walker Corn Hole board started a revolution here at The Full Pint.  Have fun, play a game while drinking beer, rather than just sitting around. Link to Firestone online shop.
Coffee French Press(es) – In the last few years, there's been a great trend of making variants of our favorite beers. This would be the "Do-It-At-Home" kit for making variants.  Wanna make your own Coconut Bourbon County Stout? Wanna see what a little Sage in your IPA might taste like. Steep creative ingredients in your favorite beers inside a french press and open up a whole new world of flavor combinations.  Tip of the hat to Mr. Woodshop aka Chris Quiroga, who has been lighting up peoples faces with this simple yet creative craft beer craze.
RateBeer.com Premium Membership – RateBeer.com has been one of the two largest craft beer ratings databases for years, at no charge. For $12.99 a year, you can have ad free access, and gain more data. Even better, you get the feature of managing your beer cellar and access to trading feedback for yourself and other traders. Link to membership.
Lost Abbey Teku Glasses: Nothing says baller Instagram #beerporn like a Teku glass. The Lost Abbey ones are my favorite and you can buy them online by following this link. http://goo.gl/lI3oXY
Kegerator – Who doesn't want a Kegorator. Keeps fresh draft beer cold and flowing, you'll have dozens of new friends instantly, and it will save you money! (make sure you tell your wife the last point).  Check out Google or a large appliance chain to get one.
HomeBrew Starter Kit – If you really have the itch to try home brewing, you should start with the basics, just to get the process down. Like with any other hobby or sport, you don't want to go whole hog until you know you really enjoy it and can envision yourself sticking with it and improving.  Get everything you need to make a 5 gallon batch of home brew with this starter kit. http://goo.gl/XXMdbd
A trip to Santa Rosa – Everyone should experience visiting Russian River Brewing once. Many people have never gotten to try Pliny The Elder or one of RR's amazing sours.  If you are into wine, you are smack in the middle of wine county, near the SF bay, and near Lagunitas, Bear Republic, Marin, Moylans and more. Even if the person who goes with you isn't into beer, the weather and scenery is beautiful.