The Erosion of American Pale Ale Retires Firestone Walker Pale 31
Long before Firestone Walker was known for their strong barrel aged beers, long before Luponic Distortion and even the family of "Jacks", they had a very focused, classy lineup of beers here in their only market of California. If you went to the grocery store in the mid-2000s, you saw Firestone Walker Double Barrel Ale, now known as DBA, Firestone Lager, which has been retired with a quick retro return this year, and Firestone California Pale.  All three beers were the very few "micro brews" you could purchase at the supermarket alongside endless packages of Bud Light and Miller High Life. At that time, I had no idea Firestone Walker would go on to murdering the IPA game, whether it be session, single or double IPAs within a few years.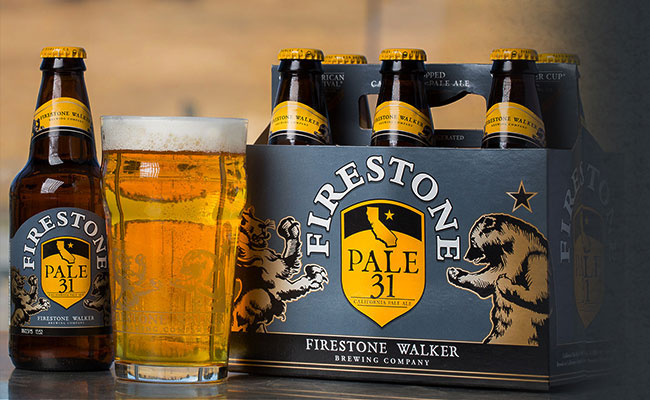 The Beginning of My California Pale Love
My favorite of those three core beers was Firestone Walker Pale. My only other real comparison when I began drinking that beer was Sierra Nevada Pale Ale, and believe it or not, these two beers were night and day different. Sierra Nevada was my introduction to a hop forward beer. My initial response was that it was a mouthful of bitter pine notes with a very mineralistic quality to it. In comparison, Firestone Walker Pale was far and beyond more pleasant, with a very neutral malt body and floral and grassy hops instead of that classic and sometimes harsh Sierra Nevada house character.
Like many in the middle 2000s, I gravitated away to bolder, more flavorful beers as the strong, 99 IBU fad was in full swing. Alongside my tastes and the country's trends, Firestone Walker followed suit and created Union Jack IPA, which at the time, overtook Firestone Walker DBA as their breadwinner.
A History Lesson
According to Firestone Walker, the first incarnation of this beer debuted as Windsor Pale ale in 1997, with some regal English homage using English Malts and initially English hops. In 2001, Windsor became just 'Pale' and was hopped using American hops. Surprisingly, this beer was also at one time blended with Double Barrel Ale for a hint of wood and caramel. It was not until 2006, right about the time I began drinking this beer, that the DBA component was removed to become the bright crisp beer I fell in love with. It was then renamed Pale 31 and underwent slight packaging changes over the past decade.
Folk Lore
Firestone Walker spent many years making private label beers for California restaurants as well as Trader Joe's grocery store. Depending on who you ask at Firestone Walker on any given day, you will get the "scoop" that the private label Pale Ale sold to restaurants and the Mission Street Pale Ale of yesteryear was in fact Pale 31 with a slightly different hop regime or just flat out Pale 31.
The Erosion of the American Pale Ale
Around the time that Firestone Walker struck gold with Union Jack, they also added to the "Jack" family with Double Jack and Wookey Jack to meet the flavor and alcohol demand, and also were baited into the Session IPA craze with the introduction of Easy Jack. Easy Jack and many other session IPAs were billed as beers that had the aroma and flavor of an IPA but the strength of a light lager. While I personally enjoyed this trend, two things happened: this kicked the American Pale Ale to the curb and the trend itself faded away within a year. Consumers dismissed American Pale Ale for perception of lack of hoppiness and dismissed Session IPAs due to them being priced the same as a single IPA with half the shelf life. In the last three years, Stone Brewing retired their flagship pale ale, attempted to reformulate it, and quickly retired that too. Meanwhile, Firestone Walker added a new product in 2016, Luponic Distortion. Luponic Distortion was a response to the crave of a modest strength hoppy beer that would be perceived as new every 90 days to combat the brand loyalty issue going on in the retail market. Firestone also struck gold with 805 Blonde Ale, a 4.7% blonde ale for those looking for something lighter. Between the demand for Pale Ale, Firestone's Easy Jack and 805 products, it was only a matter of time that Pale 31 was bumped out of the lineup, and sadly, that day came last week.
Pale 31's Legacy
This Pale Ale recipe is by far Firestone's most award-winning beer. Taking 10 GABF medals in the American Style Pale Ale Category and three medals in the Session Beer category . As well as four Gold medals at WBC (a bunch of European Beer Star Awards as well). In regards to the folk lore portion of this article, there were award announcements for Mission Street Pale a few years back, fueling the rumors that there wasn't much difference if at all between the main brand and the private labels.
Everytime I went to Firestone Walker BarrelWorks or the main brewery in Paso Robles, my first pour was Pale 31. At the source, it was one of the most beautiful beers I've ever drank.
A note from David Walker
"Pale 31 has been put out to pasture simply because the American palate it helped awake has decided this style is not for them. Let's hope they come full circle and we can dust off the spell book and create this beautiful creature once more"