Editor's Pick – 2016 Craft Beer of The Year : Firestone Walker Luponic Distortion
While 2016 continued on with great growth in the craft beer sector, it also presented many challenges for the medium and large craft brewers. For now, gone are the days of the core/flagship lineup of beers.  New and existing craft beer enthusiasts are constantly chasing what's new, rare, seemingly exciting, and in some cases, a beer with a level of scarcity surrounding it.  While the rapid exploration is great fun for the beer lover, it makes it hard for distributors, sales reps and most importantly, brewers.  Any projections made in 2014 and early 2015 to meet demand were blown out of the water when retailers realized their customers were not returning to buy the same beer they did on their previous trip by mid-2015.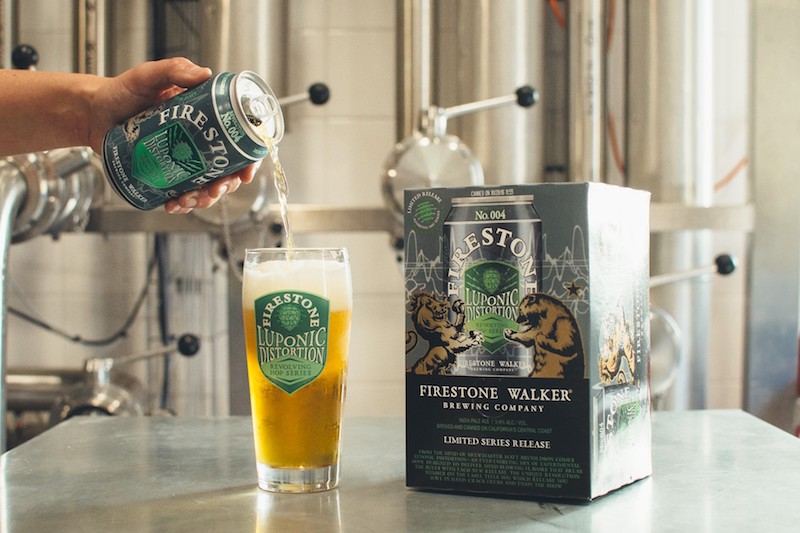 As a beer drinker myself, I love trying new things and new flavors, but at the end of the day, I know exactly what I want to satisfy my beer drinking habit.  I want the beer to be delicious; I want it to be fresh. Whether the beer is made in California or not isn't as important as to that Packaged-On date for me.  A beer could be trucked from one side of the U.S. to the other in a few days. I also want the beer to be economical.  I buy expensive beers for special occasions and social gatherings, but I have a price threshold in mind.  I really try to look for fresh IPA priced at no more than $12 per six pack. As for freshness, it's fairly easy to find beer packaged and coded within 30 days.  While folklore has dictated beer is "the best" straight from the bright tank or under a week old, my personal tastes have proven that not to be the case.
As Stone Brewing began euthanizing many of the flagship beers that brought them great success, there was rumblings that Firestone Walker was going to replace one of their slow moving pale ales with a rotating experimental hopped beer.  At the time, it was thought that longtime Firestone Walker staple Pale 31 would ride off into the sunset, as Easy Jack IPA was more in line with what today's beer drinkers are enjoying.  We were partially correct, as Firestone Walker announced the launch of Luponic Distortion in early 2016.
Luponic Distortion was framed up as a "Revolving Hop Series" and not as an IPA, which was a very bold move. Currently, IPA appended to anything will guarantee better sales.  Due to Firestone Walker's strength in sourcing and brewing magically hoppy ales, they were able to create a beer that will be updated every 90 days with a new blend of cutting edge and experimental hop varieties. After having the first three "revolutions", I can give you a high level description of the beer itself. Luponic Distortion is a dry, light bodied, aromatic West Coast IPA. Much like Sierra Nevada Hop Hunter and Russian River Blind Pig, this beer is scaled back on malt presence and clocks in at 5.9% abv. This addresses the criticism of Session IPAs "missing something" while being a beer you can have multiple servings of without being clobbered by an alcohol buzz.
While calling a fresh 6% IPA a "game changer" might be a bit of an exaggeration, there are many boxes this beer checks off that cannot be overlooked. For the A.D.D.-riddled craft beer consumer, this provides four new beers a year to try. While there is a common theme amongst all "Revolutions", there is enough of a flavor and aroma variance to make it worth checking out each and every time.  For Firestone Walker, they are able to offer a SKU to retailers that will actually move and not collect dust. Sales reps won't have to pitch a new beer for consideration four times a year, it's "the same beer" so to speak. Because of the rotation portion of the beer's gimmick, it's also self-policing on the shelf. Sure, some old revolutions will slip by and be sold to an unknowing consumer, but the branding of the beer greatly prevents that without the obnoxiousness of "Enjoy By XX.XX.XX" or "Born Yesterday."
As the editor in chief at The Full Pint, I pick Firestone Walker Luponic Distortion as the Craft Beer of 2016 because it checks all the boxes on my personal preference list.  It tastes great, it's fresh, it happens to be made in my home state and it's damn affordable.  My local Trader Joe's gets it in at $8.99 a six pack, two weeks after it's been canned, and I haven't seen it priced for more than $12.00 a six pack elsewhere. When Firestone Walker rotates out the hop bill, I'm very certain I will still find the beer lovable and crushable.  Mature breweries looking to stay in the game or reinvent themselves, as well as young breweries looking to expand should take notice, as Firestone Walker has just hosted a clinic on how to combat the core lineup issue, the freshness issue and price point concerns of beer drinkers with one product.
The Full Pint is taking nominations for The Best Craft Beer of 2016 from you, the loyal readers. Head on over to https://thefullpint.com/beer-news/nominate-best-craft-beer-2016/ to select a few great beers from 2016 for our flagship poll at the end of the month.