Craft Beer Power Rankings 2-28-14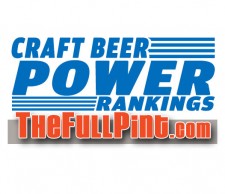 We're back with this week's Craft Beer Power Rankings. We attempt to rank the top 5 most buzz worthy craft beers, based on influences from social media, the two big message boards (BA/RB), as well as upcoming brewery only releases that catch the attention of the most diehard beer enthusiast. Do you have your own five? List them below in the comment section. Cheers!
5. Kern River Citra DIPA – This beer is back on the trading block, and it tastes as great as ever. It may be losing steam compared to previous releases, but it's still commanding nice hauls and is still a pain in the ass to get. As long as it's hard to get and delicious, it will still be coveted.
4. Surly/Three Floyds/Real Ale BLAKKR – Metal as fuck label. Check. Collaboration with 3 Floyds. Check. Dark strong ale. Check.
3. Logsdon Peche N Brett – Logsdon makes nothing but fantastic beers. At the tippy top of that short list is Peche N Brett. Logsdon takes organic peaches and combines it with their already amazing Seizoen Bretta, and bottles as much as they can.  The yield is on the small side coupled with the crazy demand at all Logsdon accounts up and down the west coast, and people are going ape trying to snag a bottle of this beauty. It surpasses the hype,imo.
2. Prairie Bomb! – This beer is still wowing mouths every time a new batch is made. The gold-ish wax run that has just hit the streets is trading just as well as when this was the new kid on the block. Seems to be a steady flow of this beer, and I'd trade easy to get Bomb! for hard to get Bomb! anyday.
1. Taps Pappy Remy – We have this brewery here in Southern California called TAPS Fish House and Brewery. They make extremely clean, drinkable beer that often wins at GABF. 99% of it is draft only and 80% of it is for their restaurant. Once a year, they release their bourbon barrel aged  Imperial Stout, Remy in bottles.  This beer just went from very good to EXTREMELY AWESOME by taking a little nap in a Pappy Van Winkle barrel.  I am proud and amazed that TAPS has a beer that is hot on the trading block.