Craft Beer Power Rankings 10-26-13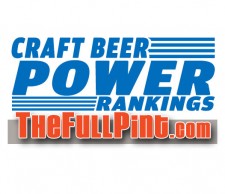 We're back with the latest edition of the Craft Beer Power Rankings for the fourth week of October.  We attempt to rank the top five most buzz-worthy beers based on a few influential factors such as social media presence as well as presence on RateBeer and BeerAdocate.  Cheers
5. Sierra Nevada Celebration – The universally loved, rich West-Coast IPA from craft beer pioneers Sierra Nevada.  This is the time of year when you'll start seeing six packs and twelve packs of this amber hoppy goodness.  While this beer makes me smile well into February, this is the time you will get it at its freshest.
4. Prairie Bomb – Man, many times there will be a hype beer that I kick and claw for, only to be slightly let down.  I was able to finally find a bottle of this at a local liquor store and was blown away.  We were able to drink a good deal of this beer at the What The Funk festival in Denver a few weeks ago, and cemented this beer as a classic.  Tons of chocolate, coffee and chilis. Different mouthfeel than Hunahpu, but just as yummy. This is still a big want on the trading block.
3. The Bruery Black Tuesday – It's already that time of year again, where The Bruery is selling their coveted Black Tuesday Imperial Stout.  While there are more bottles pumped out than back in 2009, The Bruery has maintained the allure and prestige of this beer by keeping it brewery only and keeping the limits low.
2. Kern River Citra DIPA – There are not many beers that people will drive 4-8 hours for. Kern River Citra DIPA is one of them.  Kern engineered a lottery system for the right to purchase this extra dank, dangerously easy to drink dry Double IPA and people have gone nuts about it.  It is that darn good, and KRBC needs to ramp up production on this guy.
1. Surly Darkness 2013 – Tomorrow is Darkness Day 2013, and already the trading block is flooded with requests for Surly's answer to Dark Lord. Darkness has all the properties of a super hyped/buzz beer.  It's a monster imperial stout, suitable for aging, it's got a cool label once a year, and a waxed neck.  It has high ratings and will be all the rage for the next month, you'll see!