Craft Beer Breakdown: Barrel Aged Imperial Stouts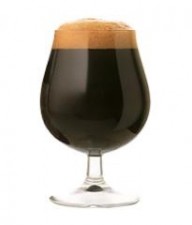 We are currently honoring one of our personal favorite styles of beer this month at TheFullPint.com, The Barrel Aged Imperial Stout. 
For close to a decade, even before this current craft beer boom, those in the know have been enjoying high malt, high alcohol content based stouts aged in oak barrels to a great reaction. By far, the most popular barrel used by craft brewers has been barrels previously used to age bourbon whiskey. 
Goose Island Brewing in Chicago made this treat famous with their Bourbon County Stout all the way back in 1993, and since the trend has been catching on more and more within the industry each year.  I use an analogy often to describe the marriage of Imperial Stouts and bourbon barrels to be similar to the marriage bacon wrapped Filet Mignon. Both parts are incredible, and put each other over the top when combined.  With that said, there are huge fans of this beer, and there are folks that are passionately against them. We are going to break it down for you.
There are many positive things about the Barrel Aged Imperial Stout for beer drinkers and brewers  For a beer drinker, this is the most rich, decadent beer you can buy.  In most cases, you have the strength of a strong bottle of wine, with a nose and palate of sweet bourbon whiskey and chocolate, and might be the only thing you drink in the course of a relaxing evening.  Admittedly, I don't drink Barrel Aged Imperial Stouts often, as much as I love them.  I break them out for birthdays, holidays, celebratory occasions, or at group beer tastings. This is "the special occasion beer" if there ever was one.  For the brewers, it can be a fun project to head off. If the brewer has the money, space, and the ability to risk losing such a grain intensive beer, they will likely have fun making this beer, and will also be able to create a gigantic buzz surrounding the beer and in turn the brewery.  We've seen big and small craft brewers execute on this beer trend amazingly, and we've also seen some of the not so fun aspects of losing an entire yield of Imperial Stout due to infection or conditioning problems.  This also helps the brewery to draw a crowd.  While people in the know congregate to snatch up all this specialty beer, they are a likely customer of other beer for sale. Speaking of sale, the brewer has the ability to sell this beer at a much higher than any other beer, in the name of cost and labor as well as it being special and limited. There's also that whole supply and demand thing too.
Not everyone is a BA Impy cheerleader like myself. There are some who think the style and trend is bad for craft beer. There are the "beer purists" who think high alcohol beers are merely a fad, and a way to mask questionable brewing skills, as well as thinking they are creatively bankrupt. To that person, it has to been a bone dry Saison, an old world German style session beer, or a beer that would described as balanced. I appreciate their passion as much as my own for the monster beer I love. I get it. Rate Beer and BeerAdvocate's highest ranked beers are all Barrel Aged Imperial Stouts, there is not a Dortmunder or Czech Pils to be found, and it's annoying.  This is just one facet of a huge spectrum beer.  There is also a small problem with the trading and eBay subculture with regards to the Barrel Aged Imperial Stout. Look no further than the latest AleSmith Barrel Aged Speedway Stout release.  Because of the hype surrounding this beer, allocations went from 4 to 2 to 1, while geeks butted in front of eachother, sent "mules" down to the brewery from sent from traders around the country, and put a huge negative stigma on what should have been a fun day in San Diego. To add insult to injury, within hours of the beer being sold, bottles were popping up on eBay for over $150.00 a bottle, up from it's $25 retail price. One could easily make a case that this isn't what the art of brewing and the hobby of beer tasting is about.
The bottom line is, the beer is tasty, and needs to catch up with the supply and demand issue that brings upon negativity. There is room in this world for both a clean Czech Pils and a Bourbon Barrel Aged Stout. I would just like to see the day where brewers are able to have a barrel aged program efficient and productive enough to make it a year round offering. Would people be giving up all their goats and their eldest daughter for The Bruery's Black Tuesday if you could buy it by the case all year round? Probably not, but they would probably still find the beer to be worthy of your holiday gathering, and would still probably pay the price such a beer commands. Why, because the style is just that darn good.