A Look Back at 2011 Part 2 – Flying Fish, Clown Shoes, White Birch, Maine Beer and VT Love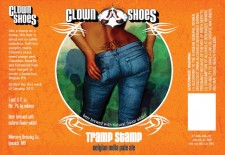 Dan recaps some memorable moments in the craft beer year of 2011 by running down some milestones from the likes of  east coast players Flying Fish Brewing, Clown Shoes Brewing, White Birch Brewing as well as Maine Beer Company. As a bonus, a shout out to some Vermont Brewers.
Flying Fish Brewing – In the land of Iron Hill territory and the booming craft beer culture lives one of the first "micro breweries" in the Delaware Valley, Flying Fish.  For years, Flying Fish was making many traditional styles, not to veer too far off from the locals comfort zone. Since 2009, they decided to think outside the pond and created the Exit Series. In 2011, they drastically slowed down the releases of the Exit Series due to production constraints. Like many other breweries their size, with their demand, they are in the midst of expansion. We hope to continue up and down the pike with them in 2012.
Clown Shoes – Just at the end of 2010, a new company called Clown Shoes broke onto the scene. They've rolled out Pecan Pie Porter, a few Black IPAs. As quick as a new company could possibly do it, they began expanding their distribution clown shoe print to six states. They are still contract brewing their brand at Ipswich Brewing and getting their name in the press with their risque bottle labels. Follow this link for that mini-controversy. We are all paying attention to this very new brewery, so let's have some beer guys!
White Birch – In a not so happy tale of a new brewery, the trading scene on RateBeer.com and BeerAdvocate, found that White Birch Brewing in Hookset, NH is having some trouble brewing. A close family friend shared a bottle with me that was in real bad shape. All joking aside, we wish White Birch the best, and hope some of their youthful kinks are sorted out.
Maine Beer Company – Sweet silk screened labels? Nope. Crazy imaginative beer names scaring you of the hop bill? Nope. 15 flagship bottled products? Nope.  They have four beers and all four beers are great. That's batting 1.000.
Vermont Love – As of press, I have not gotten my hands on a Hill Farmstead beer that wasn't in a collaboration.They are on my must try list for 2012. The story goes, they are super good, and super out in the middle of no where, so any VT traders require to be handsomely rewarded for their travels. Understandable.  The Alchemist in Vermont made headlines for facing natural disaster by the name of Hurricane Irene, but even more newsworthy is their canned Double IPA Heady Topper. Definitely worth the hype.
We will continue to recap the year in craft brew until the ball drops, so stay tuned loyal readers. Cheers!
Click here for Part 1
Click here for Part 3
Click here for Part 4
Click here for Part 5
Click here for Part 6
Click here for Part 7