2016 Craft Beer Year in Review Part 2
We are back with our part of 2 of craft beer year in review. We are running down many topics and issues that were important for 2016. As mentioned in our first installment, we don't mean to have a negative slant on the year, but this was a very volatile year for this highly popular adult beverage. Here is what we saw this year. Cheers!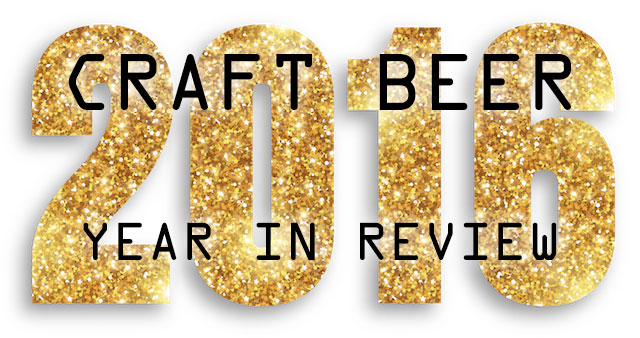 Society/Clubs – Over the past 5 years, more and more young breweries have looked to Placentia, CA's The Bruery, as well as established vineyards as a model for generating a good deal of revenue via "beer of the month" type clubs. More commonly referred to as societies thanks to the popularity of The Bruery's Reserve Society, breweries looking to fund expansion, experimental and expensive beers are able to offer a dozen or so beers, some merchandises and other perks for typically $250 – 300 up front. These types of clubs have been attractive to traders, secondary market opportunists, and those who love to hoard and cellar rare beer.  Because there are so many clubs now, and so many quality ones, there seems to be a bit of fatigue from the target demographic.  While we aren't privy to membership numbers, if you browse the major message boards and Facebook  groups that discuss ticking, trading, selling and hoarding, you'll notice a new trend of people wanting to cut back on the amount of memberships or bow out of these types of commitments all together.  It would seem the trend of the online pre-sale, brewery only release has been a more popular way to obtain these beers.
Noble Ale Works – One of our favorite local breweries, Noble Ale Works out of Anaheim had a great 2016.  Known for their highly drinkable, sometimes experimental and always fun beers, cleaned up at this year's World Beer Cup competition.  They won Small Brewery of the year as well as Gold for American IPA.  They are in the middle of expanding their brewhouse to accommodate more beer and more visitors. They have also dabbled in the brewery only 4 pack cans of hoppy beer with great success.
Strong Ales/Barleywines – Not too long ago, the major rating sites would indicate that the best beers in the world were imperial stouts, barleywines, old ales, and all of those aged in spirit barrels. We haven't seen to many new barleywine products on the market, and it should be do to lack of demand. It would seem that palates have changed, maybe for the better, and that all people want to drink these days are IPAs or the next trendy style mentioned below……
Adjunct Stouts – Much like how bacon makes any food better, tossing a bunch of shit into a milk stout or an imperial stout seemingly makes it better.  Those in the know refer to these stouts as adjunct stouts, and the most popular adjuncts that make beer enthusiasts go nuts are vanilla beans, toasted coconut, cinnamon and chilies. While we've mentioned this trend in previous years as a tasty trend, this has now gone beyond just a tasty trend  and launched into the stratosphere.  Whether the beer is well made or a goopy mess, having vanilla beans and or coconuts is cause for a frenzy of arguments, lopsided trades and secondary sales of epic proportions.
New Sour Darlings – Not too long ago, all the rage in American brewed and blended sour ales were The Bruery, The Lost Abbey, Upland Brewing, Avery Brewing, Allagash and Russian River.  While all those named still make high quality, delicious sour ales, there are many new players in the game.  Right now, many youngers brewers have been added to the list of great sour ale makers, such as Tired Hands, Sante Adairius Rustic Ales, The Rare Barrel, Highland Park, Monkish, Jester King, BarrelWorks, De Garde and Side Project.  While ultra snobs have always been quick to mention the superiority of Belgian brewed gueuzes and lambics, today's American made sour and wild ales are as good if not better these days.
Gray area craft breweries – When AB-InBev or Miller Coors acquire a regional craft brewery, there is enough noise made by local fans that word gets out. Then there is Lagunitas (50% owned by Heineken), Founders Brewing (30% owned by Mahou San Miguel), and Ballast Point (100% owned by Constellation Brands, a global beer and spirits corporation).  While the Brewer's Association doesn't consider any of those named to be considered craft beer, they are all still not owned by the Devil and make considerably less beer than Samuel Adams and Yuengling (both considered craft by The Brewers Association). There are those who want to drink righteously and support independently brewed beer, and these brands in particular blur that line. Partially because these companies are marketing themselves as craft (not a crime), and The Brewers Association could use a revision to their standards based on today's landscape.
San Diego Fractal – As a kid, I always observed that pop culture trends started in California and if successful, moved eastward. The same can be said for craft beer trends.  There are new breweries in the midwest and northeast that are starting to brew beers that resemble the San Diego style.  Likewise, if you take a look at San Diego in 2016, they are near 120 breweries within it's county's 362 square miles.  It would be fair to say that at least 10 percent of these breweries are producing low quality beer and owned by people trying to cash in on the craft beer boom. About a dozen or so of these breweries have gone out of business this year, and there were none announced that I had actually ever heard of before. There was no clamor about an awesome brewery shutting down in San Diego this year. Not one. What's my point? San Diego is the beginning of a fractal in the US craft brewing world. While there is room for more breweries in our country, the low quality beer that appears to be a cash grab will go as quickly as it came.