Interview with Tomme Arthur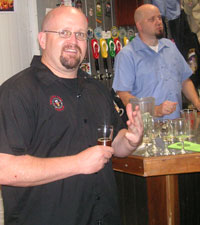 TheFullPint.com is proud to bring you another installment of the 'Brewmasters Spotlight', with Tomme Arthur –  Port Brewing/Lost Abbey Co-Founder and Director of Brewery Operations.
The Lost Abbey has just reached their 3rd birthday as of this interview, and we wanted to get some of Tomme's feelings on that, and other hot topics that you are sure to find interesting.
Let's rewind 3 years ago. What was your mission statement at that time?
When we opened our doors three years ago, we didn't have a mission statement. Our stated goal was found in our 10 Commandments and the basis for them was guided simply by "the most imaginative beers are our crusade." Our Ten Commandments are as follows:
The First and Golden Rule if you will of our Commandments is The Most Imaginative beers are our crusade- If not, then why are we in business?
We believe that we are all in this together – In this way, we all bear some measure of risk and the rewards that come from our taking chances.
We strive for honesty and integrity in our lives like you – Essentially, we are not a marketing division of a larger brewery. What you see is what you get when it comes to Lost Abbey beers.
Fresh beer is great. Aged beer is better – In this commandment, we are noting the roots of our brewing process. We make a range of beers for now and a range of beers that will get better with age.
Now that you have found us, help spread the word – We are a small company and we need support for our message.
There is good and evil in the world, our beers are good – We'd like to think that they are great.  But at the very least they are good in so much as we are not a mass produced commodity.
Passion isn't something you can buy at the corner store – In this way, we're telling you that we're passionate about our beers and more importantly it fuels our fires.
We believe that an inspired life is worth living – At our core, it is our job to inspire our employees, ourselves and our patrons.
Life is about choices. We believe The Lost Abbey is a great choice – There are over 1500 breweries in the United States right now. What makes us different? What makes us better? We must be better. We must aspire to greatness. That is our choice. It is our choice to not be marginal but rather exceptional.
We are not perfect. But no one is – This last commandment serves as a reminder that while we aspire to greatness and the loftiest of goals, we are human and not infallible.
Instead of a mission statement, we have these 10 Pillars that support and frame our daily activities.
Where do you see The Lost Abbey 3 years from now?
The same place I always have. The Lost Abbey will continue to experiment, blur the boundaries of what beer can be and be a World Class operation at the same time. From the moment we opened our doors, we have busted our asses to open a brewery, launch a new brand all the while never deviating from what got us here. Namely, we're still running to "work" everyday with eyes wide open wondering which part of the process we can affect today or which new techniques will make for more flavorful beer.
2009 will be a major turning point in our operations as we have added new talent, infrastructure and process controls that will make us a better operation moving forward. 3 Years from now, we most certainly will be a bigger company. How big? I don't know. That depends on success across so many levels. Ten years from now, we will have a new production facility, restaurant and brewery that is more in line with our long term strategies for this brewery. Production brewing in a warehouse isn't sexy but practical. I believe that not everything in business needs to be practical. A new brewery project would bring many realities to life.
What is the coolest thing you have accomplished thus far?
For starters, I would have to say that still being in business is amazing enough. Sure I am biased but I have to think this whole project has been incredibly cool. In three short years, we have launched and built not one but two brands. The Lost Abbey has become synonymous with World Class. We have heavily invested in our future at a time of ridiculous economic unrest. Our barrel program has grown to become one of the largest collections of oak barrels for brewing in the United States.
In 2007 we went to the Great American Beer Festival and captured the Small Brewery of the Year award. That following spring in 2008 The Lost Abbey went on to repeat as Small Brewery of the Year at the World Beer Cup thus becoming the first brewery to hold both titles at the same time. That sure didn't suck.
Sometimes, I forget that we're making beer the way we want to. I can't imagine a situation better than this for me. I have ownership in the brewery and complete creative control over the brand. It means from start to finish, I can put my stamp on so many facets of this business. Of course it also means that I am the face of the company, which isn't always the best thing but comes with the turf.
Earlier this year, The Lost Abbey/Port Brewing released their very famous and luxurious Angel's Share Barleywine. This barley wine was aged in brandy barrels, and sold in 375ml and 750 ml bottles. What makes this release a tad different, was there was enough made that it was able to be distributed outside of the brewery. After it's initial release at the brewery, there was a large buzz from the Internet Beer Geek Community (Ratebeer and BeerAdvocate) over the quality of this release. Some were saying it was flat, some going as far as saying it was a bad batch or a ruined batch. Some of that discussion spiraled into discussion about Lost Abbey's commitment to their customer base, etc.
There is a buzz in the online beer geek community that: You made a bad batch and Lost Abbey won't make good on it by apologizing and and full on admitting it should not have been sold at any price. What are your thoughts on that?
This is one area where my opinion is clearly at odds with members of the beer community. First, I believe it is a disservice to say that the 2008 Brandy Barrel Angel's Share was a bad batch. We have lab results that show no contamination and viable yeast in the bottles. There has been a lot of chatter in the online world about our Angel's Share since we first released it in November of 2006. The 2007 Brandy Barrel version took a turn at about 9 months in the bottle. In 2008 we released the first batch of Bourbon Angel's Share. It was krausened with freshly fermenting wort. This priming method caused excessive carbonation and speculation that the beer was infected (which it's not).
Fast forward to February 2009 and our newest batch of Brandy Angel's Share. We put ourselves in a position with this release "needing" to head out the door. We employed the same methodology as we always do for our bottle conditioning. On release day, we lacked sufficient carbonation in the bottles to make the corks pop out of the bottle. We knew this was going to be an issue. Since that release date in February, we have held back the remaining 300 cases of 375 ml bottles without gas. We also held off on releasing the 750 ml bottles for three weeks until they showed more carbonation in the bottle. At the point we sent them out to our distributors, we felt they expressed a low but discernible level of carbonation.
In doing so, we angered many consumers who felt we let them down. Apologize? I grew up playing baseball and have a competitive streak in me that goes way back. If a pitcher brushes back a hitter by knocking him to the ground, he dusts off the dirt, digs back in the box and stares down that pitcher as if to say "I have this covered." We took a ton of punches in the online beer community. We've brushed ourselves off and are digging back in so to speak. We have to. It's the only way to stare down this issue and move forward.
Is the beer flat? I maintain the beer is lightly carbonated. I think that much of the confusion surrounding the big bottles has much to do with serving temperature. When the beer is served cold, we see little to no CO2 breakout. If that same beer is served at 60F we see much more expression.
People have been asking us why low carbonation in the bottle and not on draft. My reply is simple. When we package this beer, we expect that most consumers are going to cellar the beer. Over time carbonation gain will come from yeast working in the bottle. The draft versions are packaged via forced injection of CO2 and our target is 2.7 Volumes of C02 for the draft and 2.4-5 Volumes for the bottles.
We have been made painfully aware that this years bottling does not measure 2.4 Volumes of CO2 and we're working to correct this moving forward. Our new packaging line is actually capable of running beer under pressure as opposed to the near atmospheric levels our current filler requires. As such, we'll be closer to our target packaging CO2 content in the mixing tank that will result in less CO2 being lost at packing. Basically, more CO2 will arrive in your bottle due to our filler being more sophisticated. We are bottling Wipeout IPA this week for the first time on the new line and are very excited about getting this operational.
Another topic that is often discussed is Lost Abbey pricing. Small bottles at $15 and 750's at $30 a bottle brings debate over value. What is your response to someone who professes the beer isn't worth that or shouldn't be sold for that?
We make it a point not to debate our pricing structures but as a matter of course it would seem that some explanations would help here. Let's tackle the 375 ml bottles. Before one ounce of beer finds it way into the bottle, we have over $3 worth of packaging materials for this format. Is it overkill? We don't think so. From the beginning, our Lost Abbey beers have been about premium packaging, premium flavors and premium pricing must accompany this. We produce beer in one of the most expensive regions in the country. Each square foot in our brewery has a cost associated with it. Running a program the size and scope that we are isn't cheap. As such, our pricing must reflect a commitment to barrel aging of beers and the costs associated with it.
We are buying barrels on a regular basis and not reusing many of them as we are "first fill" producing both Angel's Share and Older Viscosity. Whereas a winery spends hundreds of dollars on a barrel and amortizes those costs across multiple fills, we cannot. We have tried to develop secondary uses for our barrels and we're only running at about 20% with this project. Most of them are cut in ½ and sold to a local nursery.
In terms of the 750 ml bottles our packaging costs are only slightly better than the 375 ml bottles. Is a $30 bottle of beer pushing the stratosphere of what is affordable? Sure. We don't expect that many of our faithful will be buying case after case at this price. Yet, we are making beers of incredible depth with low case totals. This is the norm in the wine and spirit world where scarcity is reflected in pricing tiers.
Many people in the online beer community have scoffed that our pricing is out of line with the beer in the bottle. This is understandable. As a company moves to the upper echelons (relative to pricing) expectations go up. This puts more pressure on us to deliver. It's a tenuous position to be in. Ultimately we hold ourselves to incredibly high standards so it's fair to expect our consumers to do the same. We are in the business of overachieving.
If we go back to the baseball analogy, take a look of the beers we've released since we opened our doors three years ago. How many of these have been home runs? Grand Slams even? Of course there have been some strikeouts as well. The best hitters in baseball don't hit everything. The bigger question relative to beer is where the Mendoza line falls. How many successes does a brewery need before the community allows for failures? Are World Class breweries heroic? Do they never fail? Hard to say, our 10th Commandment simply states "we're not perfect but then again, no one is."
One last uncomfortable one: There has been buzz that Lost Abbey is hard to reach from a Customer Service standpoint, and feel there is a lack of communication between the brewery and the club subscribers. What are your thoughts on that, and if these issues will be addressed?
This one isn't that uncomfortable. I think our rapid ascension to an "anointed" brewery has people forgetting that we're still a very small brewery at our very core. In 2008, we made 3100 bbls of beer. This makes us about the 6th largest brewery in San Diego. However, what I think is most disconcerting is that people forget we're almost doing too much. It would appear that most of the complaints are directed at our beer clubs. Mind you, there isn't another brewery in the country attempting this sort of club. We are in our third year of running these and in many ways, we're still learning on the job. It can be a clusterfuck sometimes. I get that.
The point I continue to hammer home in my messages to the online community is very simple. If you have a problem email me. That's [email protected] I answer my email religiously and if you send me a message (even complaints) we will get to the bottom of the problem. I don't know of too many brewers making 3000bbls of beer a year that have true Customer Service Departments. If something falls through the cracks, give us a chance to make things right. You might be surprised.
Obviously, with your addition of Mike Rodriguez (From Boulevard in Kansas) to your brewing team, Lost Abbey is in need of more staff as you grow. What other changes are going on in regards to operations at Port Brewing/Lost Abbey?
Adding Mike has been the best thing in the world. We are in a transition phase right now. I am still in charge of most facets of this business and I don't plan on hanging up the boots. However, what I do plan on doing is spending less time managing the mundane tasks like how many kegs to fill, who's cleaning the crappers this week etc… We brought Mike on because he comes from a large Craft Brewer. He understands systems, growing pains and brings a wealth of knowledge about bottle conditioning. I think it is evident in many facets of the business we got a whole lot better when Mike signed up.
Plus he's Cuban, which plays well with the Blue Haired crowd.
In addition to Mike Rodriguez, Ryan Fields remains as lead brewer. An Eagle Scout, Ryan has been tasked with managing the barrel program and he's done a bang up job of organizing this side of our operations. Lastly, we hired Gordie Gersky from Boulevard as well
(I promise Johnny Mac we're not hiring any more of your guys any time soon). Gordie has spent the last 2 months patiently rebuilding as much of our used bottling line as humanly possible and is our operator. Thank God! I hate bottling lines. Or at least I hate the fact they require so much attention.
We also are about to sign a Microstar contract. This will mean draft beer in 8 markets we currently are only shipping bottles to. It also will mean an increase in production that will help smooth so many things out relative to our Lost Abbey beers and availability. We anticipate our production to essentially double in no time flat with the addition of the kegs and new bottling line. We are prepping to turn the screws up on the brewery in July. It's an exciting time to say the least.
What is in the pipeline? What collaborations are cooking? What new, or scarce brewing techniques are you going to try next?
In the pipeline we have a massive batch of 10 Commandments sitting in our new fermenters. This should be released around the early part of June. Around this time, we will also be producing a monster batch of Panzer Pils. This Imperial Pilsner is a scaled up version of Julian Schrago's homebrew recipe that we made a single batch of last year. We think this beer is amazing and look forward to it being "out there" in kegs and bottles in August. We are expecting Mikell of Mikeller fame to swing by our brewery in July. Most likely, we'll look to do a draft only version of one of their beers here in the states. We have enough bottles of beer so something that is draft only makes the most sense.
Our newest seasonal Hot Rocks Lager (released in the spring) was a collaborative beer that we brewed with Tonya Cornett from Bend Brewing Company. It was a stein beer brewed with super heated granite stones. This was something that I had wanted to reprise since we attempted it back at Alesmith many years ago. Moving forward, Hot Rocks Lager will be our Port Brewing Spring Seasonal beer each year and I am excited as it means we'll have three lager beers in our seasonal program including Midnight Sessions Black Lager and Panzer Pils each year.
What is your favorite style to brew?
Well based upon our Lost Abbey line of beers, you would have to say Farmhouse Styled Ales. I think there is so much room for expression in this way that we almost always seem to cooking up a new batch of something loosely related to Saisons and Farmhouse Ales. Recently, we were asked to brew a Saison (Brother Levonian) for the American Homebrewers Conference taking place in Oakland in June. We love this beer and it features Tangerine Peel, Tumeric, Black Pepper and Brettanomyces as well.
In the three short years that we have been open, we have released 32 different beers. This is a staggering number of brews. It would appear that my favorite style to brew is whatever is new in the brewery as it seems there's always a new beer on the horizon. This is something our consumers have to come to expect of us. Well that and flat beer mind you.
Stuff You Didn't Know About Tomme
Explanation of the origin of your first name.
My dad's best friend growing up was Tomme Lutz. My parents named me after him. I was fortunate to be given the same spelling. When I was in school, I hated the fact that it was spelled different. I could never find the miniature license plate for my bicycle with my name spelled Tomme. Nowadays, I like the spelling. When you see Tomme in a beer publication, there is no doubt they are referencing me whatsoever unless of course you're talking about beer and cheese.
Mickey's Malt Liquor? Expound.
Well for starters, I like it. That's no joke. On Fridays you may find me drinking Grenades at the brewery. It's my guilty pleasure. Everyone asks why? Well for starters, it's well made. If you think I am bullshitting, look at how many medals this beer has racked up at the Great American Beer Festival. World Class Malt Liquor? Sure
Mostly, I drink Mickey's because it's the only beer I can turn off. This may not make much sense but here goes. As a brewer, I am always analyzing beers. It can be annoying. It doesn't matter where the beer is from, when I am tasting or drinking beer, I always think about what went into it, how it got here and what makes it worth drinking (or in many cases not worth drinking). Mickey's is the only beer I consume where my mind goes blank. I don't mean this in a pejorative sense. It's just nice to know that there is something out there that I can drink without deconstructing. I have 2 quarts of Mickey's Ice in the cold box that I had to trade for. Can't get that stuff on any street corner in San Diego.