Pizza Port Strong Ale Fest 2009 – Pictures and VIP Tap List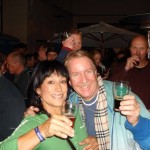 Hope everyone had a fun and safe time at the Pizza Port Carlsbad Strong Ale Festival 2009 this past weekend. We would like to share some pictures submitted by Anita and Fred from San Diego. They went Friday night, and had a blast. Also, Andy K from Bay Park  sent us the scan of the VIP list of beers on tap.  Enjoy!
Click here for the VIP Tap List.
Click here for the Entire Regular Tap List.