Isabelle Proximus, Firestone to Oregon, Rock Stars of Beer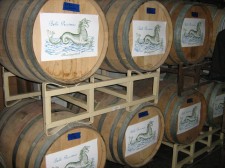 I got wind about the Isabelle Proximus project a bit late. The day we posted the article in fact.  How magical this brew must be, made by Dogfish Head, Allagash, Avery, Russian River, and The Lost Abbey?  I try to carefully plan my trips to San Diego, to ensure I get the most bang for my buck.
When I found out the 750 ml corked and caged collaboration ale was going for $30.00, I wasn't shocked at all.  The last few special, brewery exclusive offerings from Lost Abbey have been about the same price.  Some might say that is too much for a beer, but believe me, they never disappoint.
Angel Share was worth the hype and price, as was Cuvee de Tomme.  So why did I skip on this release?  The price of gasoline.  It would cost me a tank of gas, which is around $70.00, just to procure a few beers at $30.00 a bottle.  I have no doubt that Lost Abbey sold every bottle and weren't effected by other Angelenos that couldn't make the trip down, but this is the first time the state of our economy has influenced my consumer decisions.  Luckily, I found a nice person that got one to sell to me, and at cost.  I am a fan of all five breweries, and can't wait to have a taste of it.
Firestone Walker Brewing from Paso Robles, CA announced they will begin shipping their brews to Oregon.  When I spoke with Matt Brynildson earlier this year, he was under the impression Firestone Walker would remain exclusive to California, and that it was even hard to penetrate the Northern California market.  I think Oregon will enjoy the line of ales from Firestone.  Firestone Walker makes a uniquely balanced ale, that should appeal to the fans of local Oregon brew.  Although this is pure speculation, I have a feeling Firestone Walker will not stop with just Oregon.  For all I know, they are shipping to test markets as we speak.  They have expanded their facility, perhaps enough to cover other West Coast states.
I just received the newest Draft Magazine in the mail.  I was thrilled to see Sam Calagione and Jim Koch on the front cover.  Previously, Draft has placed C and D level celebrities on their covers, and have forcefully tied it into an article about beer.  In my humble opinion, as a lover of craft brew, I looked at that cover, and thought I was looking at two huge rock stars. I thought, if I don't wear out the magazine, I am going to frame that cover.  Draft should focus on furthering the rockstar like following craft brewmasters have, and continue making them the focal point of the publication.