Four Brewers | The Blind Bourbon Barrel-Aged Stout Bout, Part 1
Season 2, Episode 7 – The time has come. The moment has arrived. This week is part one of our epic blind tasting of bourbon barrel-aged stouts from across the United States.
[Player above not working? Download here.]
We've been hyping these episodes for a few weeks now, and they have finally arrived. Here's the premise of these shows: Episode 7 (part 1) is going to be the introduction of the blind tasting, and why the beers were selected. We're going to drink four of the nine beers, and rate them according to aroma, appearance, flavor, mouthfeel, and then a final overall rating. Episode 8 (part 2) will feature the final five beers and the results of the blind tasting will be revealed. But, let's take a step back and briefly discuss how this came about.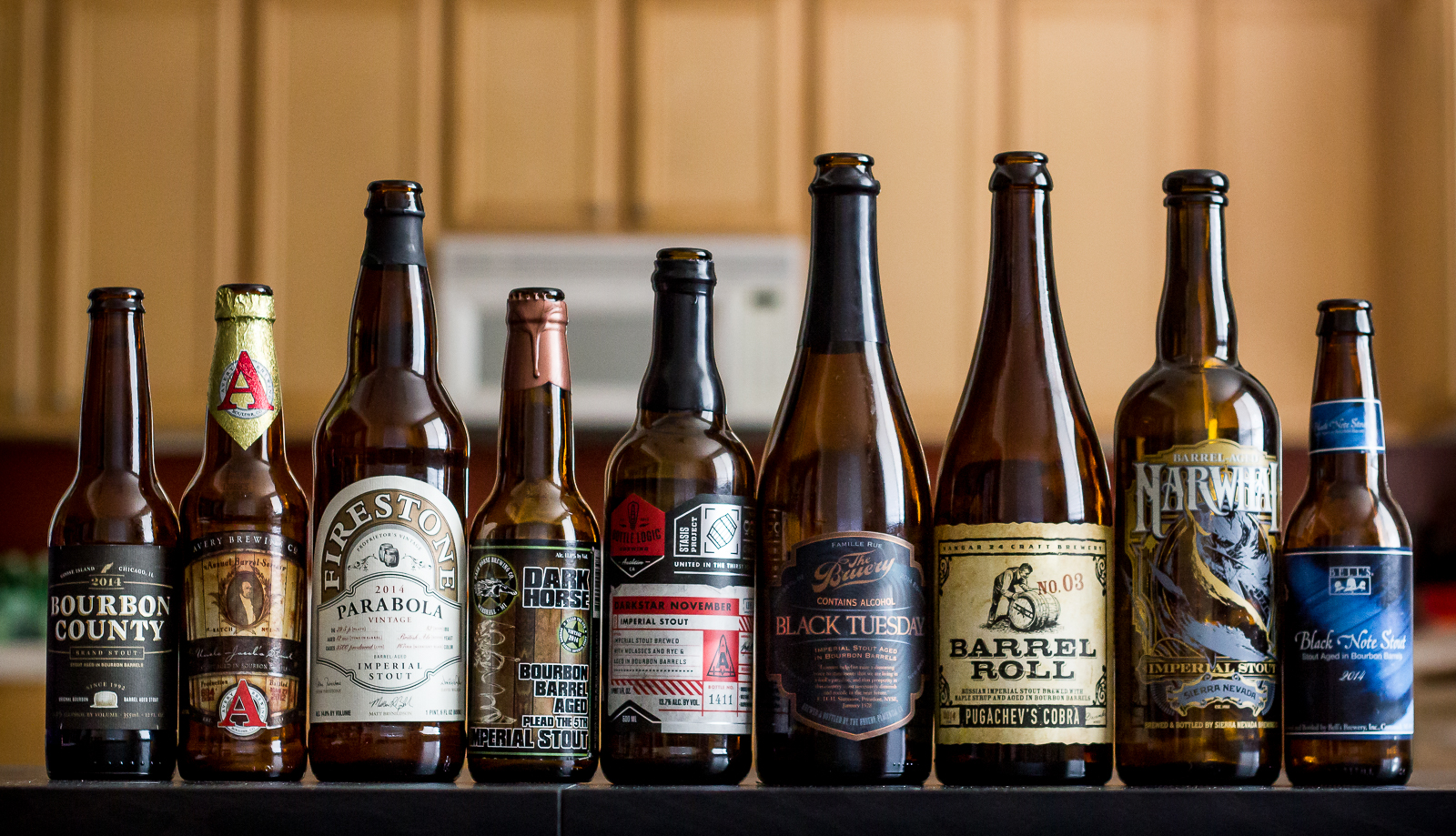 Back when Goose Island's Bourbon County Brand Stout (BCBS henceforth in this post) was released in 2014, beer geeks went apeshit trying to find this beer. Of course, this wasn't the first time this beer garnered this much attention, but it really stood out in 2014. Our friends on social media posted pictures of this beer being purchased by the case, and Black Friday officially became known as BCBS day for us beer geeks. The ironic part about all of this is that Goose Island Beer Co. is owned by AB-InBev (ABI henceforth in this post), who to many beer geeks, is the "enemy" of the craft beer movement. They are owned by a macro brewery, to put it in simple terms. BCBS is a macro beer. Sure, it's still made by the hard working and passionate folks at the Fulton Street Brewery (Goose Island Beer Co.) in Chicago, Illinois, but that brewery is exactly what ABI purchased back in 2011, along with the Goose Island brand. Now, before you write us a nasty email telling us that "ABI didn't buy the Goose Island brewpubs, and that's where the beer is made, so technically it's not a macro beer", go ahead and pump your brakes, homeboy. This beer is brewed at Fulton Street, and it's a macro brew. As long as you're willing to concede to the fact that by purchasing BCBS that you're purchasing an ABI product, then we're all good.
Just because Goose Island Beer Co. is now owned by ABI doesn't mean that BCBS is now a "quality compromised" beer. ABI actually bought Goose Island Beer Co. to help expand the brewery and essentially, get more BCBS to the masses. BCBS is still a great beer. Hell, Goose Island was the first brewery to put stout in bourbon barrels, and they've pretty much perfected it at this point. ABI bought this company to get a leg in the craft beer door as it were, and screwing with this beer would be, well, idiotic. That being said, this beer brings a lot of hype along with it, and that's precisely why we decided to do this blind tasting. Does this beer live up to the hype? Let's find out!
We picked nine bourbon barrel-aged stouts. We tried to keep this tasting as pure as possible by eliminated any beers that have known adjuncts in them, such as vanilla, coffee, and cacao nibs. We wanted stout aged in bourbon barrels. That's what BCBS is, and you can't compare this beer fairly to others made with adjuncts. We also wanted fresh examples of each beer. As fresh as possible, anyway…
In no particular order, here are the beers we chose and were able to acquire:
· Firestone Walker Brewing Co. – Parabola, 2014
· Goose Island Beer Co. – Bourbon County Brand Stout, 2014
· Hangar 24 Craft Brewery – Pugachev's Cobra, 2014
· The Bruery – Black Tuesday, 2014
· Sierra Nevada Brewing Co. – Bourbon Barrel-Aged Narwhal, 2014
· Dark Horse Brewing Company – Bourbon Barrel-Aged Plead The 5th, 2014
· Bell's Brewery – Black Note Stout, 2014
· Bottle Logic Brewing – Darkstar November, 2014
· Avery Brewing Company – Uncle Jacob's Stout, 2012
We have a special guest pouress for the next couple of shows, who is also a 4B Patron on Patreon, Ms. Dana Parker (@MissTurkeyBowl). Dana is the only one at this point who knows which beers are which. The beers were kept outside of our studio, and she brought them to us randomly.
We're not going to list the tasting notes on the blog post, but you can view them on this week's show outline. Next week in episode 8, we'll drink the final five beers and announce the results of the blind tasting. So, until then…
BREW THE SHIT OUT OF IT.
Special shoutouts go to "Cougar Steve" Saavedra for hookup on the Michigan beers, and Scott McElhone for inspiring the titles of episodes 7 and 8.
Links to things from this week's episode:
S2/E7 Show Outline
Pliny Fights Cancer Charity Raffle
Firkfest 2015
Subscribe to the show:
RSS
iTunes – While you're there, leave a review of 4B!
Stitcher
Thumb us up on Facebook:
facebook.com/fourbrewers
Follow us on Twitter:
twitter.com/fourbrewersshow
Got a question? Feedback? Email us:
feedback at fourbrewers dot com.
Help support Four Brewers!
Support the show on Patreon!
Donate via PayPal