Widmer Brothers X-114 IPA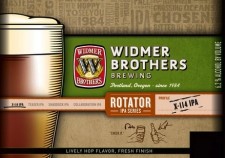 From Widmer Brothers – "114 refers to an experimental hop that has been aptly named Citra. Hints of peppery spice with a significant but smooth bitterness. Part of our rotating IPA series."
Widmer Brothers – Widmer Brothers X-114 IPA – 12 oz. bottle poured into a pint glass. 6% abv.
Appearance: Pours a translucent amber gold with a head that subsides to about 1/8 inch of off white foam.
Aroma: A big burst of grapefruit and orange zest along side some noticeable floral notes.
Taste: Danky citrus, slightly sweet malt alongside fairly dry pale malt, finishes bitter. The bitterness doesn't linger, but invites you back for another sip.
Mouthfeel: Medium bodied, moderate carbonation that takes a backseat to the bitterness.
Overall: Above average, fresh, smells great, looks great.  Keep in mind I had it fresh, and if you don't, you won't get the best out of this beer.