Karl Strauss Blackball Belgian IPA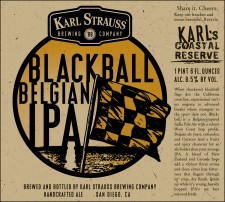 From Karl Strauss – When checkered blackball flags dot the California coastline, experienced surfers migrate to advanced breaks where strangers to the sport dare not. Blackball is a Belgian-inspired India Pale Ale with a robust West Coast hop profile. Belgian ale yeast, coriander, and Curacao lend a fruity and spicy character for an ale bolder than your average IPA. A blend of New Zealand and Cascade hops add a vibrant floral aroma and clean citrus hop bitterness that lingers through its crisp, dry finish. Drink up while it's young, heavily hopped IPA's are best enjoyed fresh.
Karl Strauss Brewing – Karl Strauss Blackball Belgian IPA – 22 oz. bottle poured into an imperial pint glass. 8.5% abv.
Appearance: Pours a vibrant copper with a dense fluffy white head that retains for some time.
Aroma: A big bouquet of citrus (grapefruit, tangerine, lemon). Spicy Belgian yeast.
Taste: A mouthful of spicy, fruity yeast, bitter juicy grapefruit and piny hops. Finishes with spice and big bitterness.
Mouthfeel: Fairly fizzy, full bodied.
Overall: I often times don't care for Golden Ale, Tripels, and Belgian IPAs do to the associated yeast profile. I do, however like a west coast double IPA style Belgian IPA. This was a real tasty beer that I can put into the like column as far as pale Belgian's go.  Drink this fresh to enjoy this with all of its citrusy goodness, that bouquet is what made the beer for me.