Victory Stone Dogfish Head Saison Du BUFF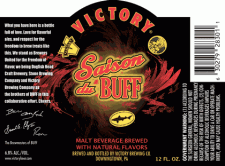 From The Full Pint – One of my favorite beers of 2010 is hands down Saison DuBuff.  I went out on a quest to try all three batches, so I enlisted my dad from New Jersey and Sal from Monster Beverage Glassboro, NJ to make it happen. All I can say is, between Stone, Dogfish and Victory, one of them should hang on to this beer as a yearly offering, not just something I'll never get to buy again.
Victory Brewing – Victory Stone Dogfish Head Saison Du BUFF – 12 oz. bottle poured into a goblet. 6.8% abv. Purchased at Monster Beverage Glassboro, NJ.
Appearance: Pours a bright yellow with a small white film atop.  Within the body are a few rising bubbles. Not nearly as cloudy as Stone or DFH's batches.
Aroma: Sage, parsley, lemon grass, light perfume.
Taste: Fresh parsley, thyme, tangy spicy yeast. Finishes sharp and bitter with noticeable spicy hops and a sour yeasty twang.
Mouthfeel: Thin body, medium carbonation.
Overall: The spiciest of the bunch, with a very thin mouthfeel compared to the Dogfish and Stone batches.