Stone 10.10.10 Vertical Epic Ale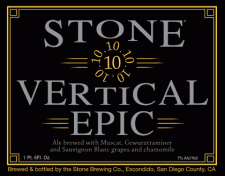 From Stone Brewing – This ninth edition of our Stone Vertical Epic Ale series takes two interesting left turns. A Belgian-style golden triple is the starting point of this beer, but the first left turn is nearly immediate with the addition of dried chamomile flowers, triticale, and Belgian amber candi sugar. The second, and rather unusual left turn takes us half an hour up the road from Stone to Temecula courtesy of the addition of just-pressed Muscat, Gewurztraminer and Sauvignon Blanc grapes from our friends at South Coast Winery. As the Stone Vertical Epic Ale series has moved through the calendar, we found that the brewing schedule for a 10.10.10 release coincided nicely with the grape harvest, neatly providing an interesting twist in this epic ale.
Stone Brewing – Stone 10.10.10 Vertical Epic Ale – 22 oz. bottle poured into a goblet. Purchased at Certified Market, Monrovia, CA 9,5% abv.
Appearance: Pours a hazy amber gold with a white pin stripe of bubbles . Towards the bottom of the glass are golden crumbs of yeast sediment. The beer didn't leave much markings on the glass either.
Aroma: Dry white wine, flowers and hints of vanilla.
Taste: Dry white wine, spicy bitter Belgian yeast. This beer finishes dry and spicy and a little tanic, I taste not only the flowery qualities of the chamomile, but also the earthy leaf matter. While it's very wine like to me, it doesn't seem very alcoholic for 9.5% abv.
Mouthfeel: Prickly carbonation and noticeably astringent.
Overall: This beer is interesting, but I wasn't really thrilled with it to the point I would want to drink it again.  I always like when Stone makes a drier offering, this was just too dry and bitter for me. I'm not a fan of wine so much, so that dry white grape profile I picked up, coupled with Stone's Belgian yeast strain made for my personal disappointment. I will be having this again around or after 12.12.12, so hopefully I enjoy it more then.  I could also see having this beer age in a bourbon barrel helping my enjoyment with it.