Uinta Crooked Line Tilted Smile Imperial Pilsner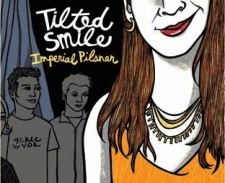 From Uinta – Tilted Smile breaks away from the crowd. Big in alcohol, yet approachable and versatile. Confidently balanced with Saaz hops and 100% Pilsen malt. Crisp and delightfully carbonated. Explore pairing with grilled meats and seafood.
Uinta Brewing – Uinta Crooked Line Titled Smile Imperial Pilsner – 750 ml. bottle poured into a goblet. 9% abv. From 38 Degrees Alehouse and Grill Alhambra, CA
Appearance: Pours a shiny yellow gold with a thin white film of head.
Aroma: German hops that you can smell from a few feet away and some apple fruitiness.
Taste: Fruity esters, bitter earthy German hops, slightly bready. Surprisingly no crazy plastic industrial notes I usually get from Imperial Pils.
Mouthfeel: Syrupy with modest carbonation.
Overall: I would have thought this was a Belgian Golden if I was tasting this blind, as it has a similar body and fruitiness to it. Enjoyable.