Lost Abbey Angel's Share Grand Cru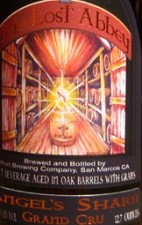 From Lost Abbey – This Grand Cru bottling has been thoughtfully blended to bridge the first batches with our most recent releases. We hope that you, like us and our Angels, find it worthy of the designation Angels Share Grand Cru.
The Lost Abbey – Lost Abbey Angel's Share Grand Cru Vintage 2010 – From online trade. Poured into a goblet. 12% abv.
Appearance: Pours a dark brown with a pin stripe of head.
Aroma: Big sweet bourbon, cereal, milk chocolate, graham cracker, soaked wood.
Taste: Dark chocolate, whiskey/woody bourbon more precisely. Deep dark roast, a little burnt.
Mouthfeel: Thick, average carbonation. Silky.
Overall: A bourbon bomb for sure, but an amazing dessert-like one at that.