Twisted Pine Northstar Imperial Porter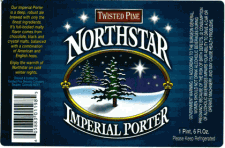 From Twisted Pine – Our Imperial Porter is a deep, robust ale brewed with only the finest ingredients. This winter seasonal has a full-bodied chocolate malty flavor with steady sweetness and a slight warming sensation. It pours black with a creamy brown head. Cellarable for 4+ years.
Twisted Pine Brewing – Twisted Pine Northstar Imperial Porter – 22 oz. bottle poured into a goblet. 9.1% abv.
Appearance: Pours root beer brown with a thin ring around the edge.
Aroma: Walnuts chocolate, oats, caramel popcorn.
Taste: Roast, chocolate, nuts. Alcohol is well hidden.
Mouthfeel: Dry for an imperial with modest soft carbonation.
Overall:  A very balanced decadent big porter.This would pair well with some chocolate covered nuts.