Terrapin Hi-5 IPA
From Terrapin Beer Co. –  Like a memorable adventure along U.S. Route 101, "HI-5″ California Style IPA leads you down a road of pure adrenaline and beauty. Capturing the majestic flavor of citrusy hops that roll off your tongue like a white cap on an ocean wave, this scenic wonder will keep you in awe, sip after sip.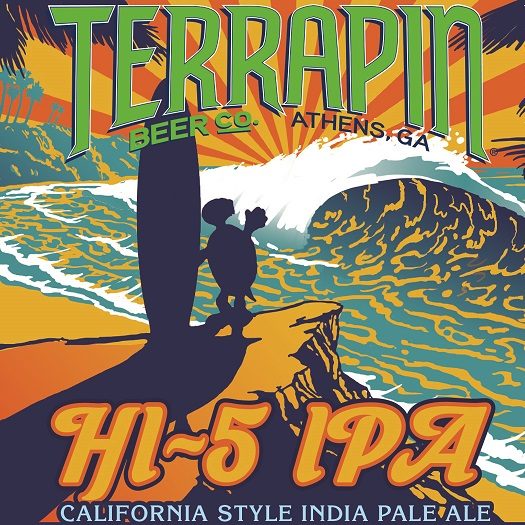 Terrapin Beer Co. – Terrapin Hi-5 IPA – 12 oz. can poured into a pint glass – 5.9% abv.
Appearance:  Pours a dull amber orange with a decent 1/2 inch of sudsy head.
Aroma:  Very citrus forward hops. Tangerine/clementine action from a far. A small touch of pine and a kiss of rock sugar like malt.
Taste: Bitter earthy pine like hops, citrus essence and pith, dry toasted pale malt. Finishes juicy and bitter.
Mouthfeel:  Full bodied. Medium carbonarion. Juicy.
Overall: I enjoyed this beer a lot. Beautifully hopped, not to strong, would pick up a 6/12 pack of this if it was an option.