SweetWater Dank Tank – Big Ol' Belgian Blue Balls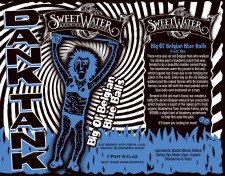 From SweetWater Brewing – Big Ol Belgian Blue Balls, (BOBBB) a 9% alcohol/volume Belgian wheat and rye brew made with local, organic blueberries from Serenbe Farms. This is the first in a series of brews using local, seasonal organic ingredients, which SweetWater and Serenbe have dubbed a "farm-to-bottle" initiative.
SweetWater Brewing – Dank Tank Series – Big Ol' Belgian Blue Balls (BOBBB) – 22 oz. bottle poured into a goblet. 9% abv.
Appearance: Pours a light amber with almost no head.  The body clear, and there is little visible carbonation.

Aroma: Cloves, Belgian yeast and subtle banana/bubble gum.
Taste: Banana, cloves, bubble gum, and a modest amount of blueberry.
Mouthfeel: Syrupy.
Overall: A really great Belgian ale, that isn't overdone with blueberry.  I appreciate this beer, as some go overboard with the blueberry. It also didn't come across as a 9% ale, which makes it a little dangerous.