Stone Go To IPA – Tasting Notes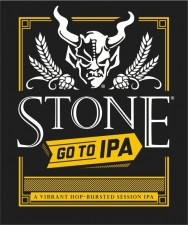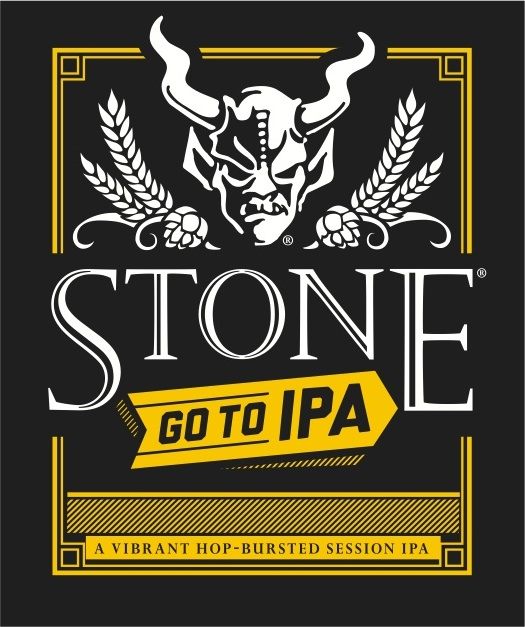 From Stone Brewing Co. – For Stone Go To IPA, we are embracing our hop obsession in a new way, funneling an abundance of lupulin-borne bitterness into a "session" IPA delivering all the fruity, piney character of a much bigger IPA. To accomplish this, we employed "hop bursting," a new technique wherein an irrational amount of hops is added during the final phase of the brewing process to coax out extreme flavors and aromas while also imparting a burst of desirably pleasant bitterness. The result is an Alpha-acid-rich beer that fans can enjoy more of without missing out on the assertive hop character you, like us, crave. So, sit back and go two with your new everyday go-to IPA and bask along with us in the glory of the almighty hop.
Stone Brewing Co. – Stone Go To IPA – 12 oz. bottle poured into a pint glass – 4.5% abv.
Appearance:  Pours a vibrant clear yellow gold with a white sudsy head that quickly falls to a film.
Aroma:  Bright citrus zest, skunky sativa strain medical marijuana. Those not familiar with that odor, I would say tropical fruit and a dash of cumin.
Taste: Quick punch of bitter 'Stone' hops, some spicy Euro hop bitterness, some citrus rind, crisp pale malt. Mineral water. Finishes earthy and bitter. Lingers well past the sip.
Mouthfeel: Thin, juicy, average carbonation.
Overall: Since Enjoy By's inception, I dreamt of an Enjoy By "Junior" for those evenings that I wanted to take it easy, or had to get up especially early the next day. This product completely met my expectations in that regard. It was refreshing, tasty, extraordinarily drinkable, almost too drinkable for someone so addicted to hops. As with all these new "Session IPAs", please be very mindful of the bottle date code. There really isn't much to this beer once the hops leave, and I hope I never live to find out what this beer is like old.
Bonus: Shortly, I will be trying to make "Mitch Steele IPA blends" with this, Stone IPA, Stone Ruination and RuinTen (when it comes back). Call me greedy, but I'd love to see a 6% abv. IPA from Stone.