Stone Enjoy By 9.21.12 IPA – The Review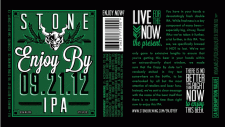 From Stone – You have in your hands a devastatingly fresh double IPA. While freshness is a key component of many beers- especially big, citrusy, floral IPAs- we've taken it further, a lot further, in this IPA. You see, we specifically brewed it NOT to last. We've not only gone to extensive lengths to ensure that you're getting this beer in your hands within an extraordinarily short window, we made sure that the Enjoy By date isn't randomly etched in tiny text somewhere on the bottle, to be overlooked by all but the most attentive of retailers and beer fans. Instead, we've sent a clear message with the name of the beer itself that there is no better time than right now to enjoy this IPA.
Stone Brewing Co. – Stone Enjoy By 9.21.12 IPA – 22 oz. bottle poured into a pint glass. 9.4% abv. From Certified Market Monrovia, CA
Appearance:  Pours a clear amber tinted yellow gold with a fluffy head that subsides to a thick film.
Aroma: Big grapefruit, tangerine, toffee, fresh wet cut lawn.
Taste:  Toffee malt, big pine and grapefruit hop bitterness. Earthy bitterness lingers well past the sip.
Mouthfeel:  Full bodied. Slick, with average carbonation.
Overall:  Fantastic!  Huge nose from 10 feet away, hops for days, some sweet malt to hold it together. It's been a long time since it was hard to get a Stone beer, this one is worth seeking out, and obviously before 9.21.12.  Kinda reminded me of an Alpine IPA, which in my book, is a compliment.