Stone 19th Anniversary Thunderstruck IPA – Tasting Notes
From Stone Brewing Co. – Our 19th anniversary release brings the boom, delivering it to the palate in a voluminous, hop-driven thunderclap. This double IPA owes its considerable oomph to a quartet of Australian hops—Topaz and Galaxy, plus two newcomers, Ella and Vic Secret, that scored impressively in test batches. We're also applying the all-Aussie theme to the malt bill, which is composed entirely of an Australian variety called Fairview. The beer's striking tropical fruit, citrus and peach hop flavors and slightly resinous and aromatically dank earthiness are sure to electrify your senses.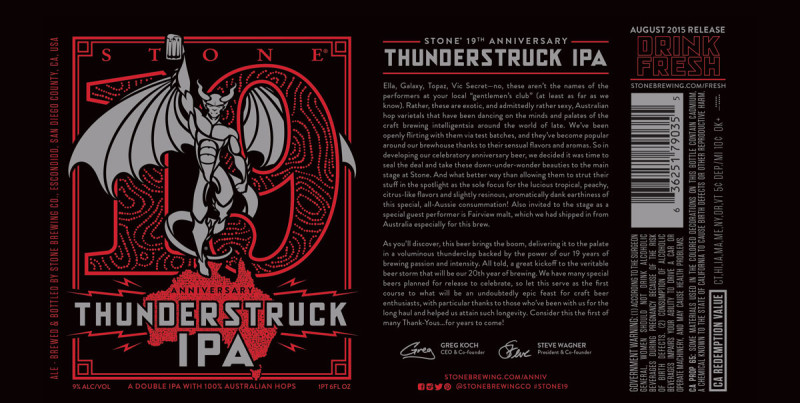 Stone Brewing Co. – Stone 19th Anniversary Thunderstruck IPA – 22 oz. bottle poured into a goblet.
Appearance:  Pours a clear amber tinted gold with a modest white cap atop.
Aroma:  Tangerine/orange soup to nuts. Touch of pine. Pith for days.
Taste:  Citrus rind/pith bitterness. The malt is there and doing a wonderful job. It's not sweet and rich like a typical double IPA but it's not bone dry either. Some tropical fruitiness weaving in and out.  Long lingering hoppy earthy finish.
Mouthfeel: Oily, full bodied average carbonation.
Overall: A fantastic fresh standard setting double IPA. Happy the ABV wasn't higher than it was. Great body, great aromatics, dangerously drinkable.  Very similar to another favorite of mine, Enjoy By IPA.