Starr Hill Basketcase American Helles
Starr Hill Brewery – Starr Hill Basketcase American Helles – 12 oz. bottle poured into a pilsner glass – 5.4% abv.
Product description: A great playlist is all about what's new and what's next. That's why we created our Heavy Rotation Series: to keep fresh styles of beer coming your way. New beer never sounded so good. This series rotates four times a year and is available in six-packs and on draft. Basket case is an American twist on a clean German Helles. Cascade hops pervade this full-bodied lager with bready malt flavor.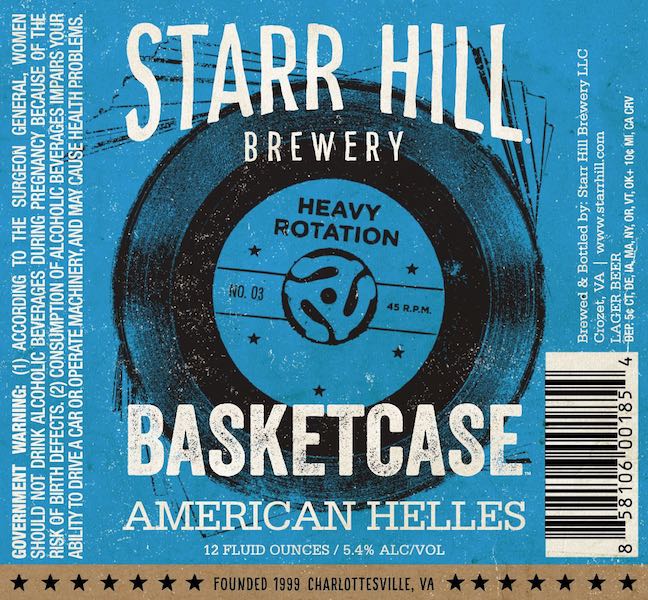 This review is from a 12oz glass bottle (packaging date 8/8/16) poured into a pilsner flute. This one is clear, light golden in color with finicky, dwindling, soda-like foam at the top.
The aroma is fairly neutral with white sugar and faint orange marmalade. Slight notes of lemon dish soap come through even after trying different glassware. The flavor, however, is pretty rock solid for style. The body is rich and filling, but not sticky or alcoholic. Hop character is absent, but the beer is still well-balanced and immensely drinkable. Flavors of fresh muffin and orange marmalade dominate. The finish is slightly oily and the body is overall heavier than expected with pound cake flavors lingering. "Smooth" keeps coming to mind.
Overall, this one hits all the marks for the style and is certainly clean, drinkable, and well put together. I wish the carbonation and hop character were a bit dialed up, but it certainly has achieved the basics of a malt-forward, highly-drinkable, golden German lager. This could be an everyday beer for outdoor activities and may benefit from migrating to aluminum cans.