Smuttynose Luna Moth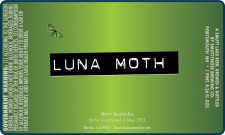 From Smuttynose – It's a hoppy saison, that features El Dorado hops, the only hop with it's own website (seriously, it's www.eldoradohops.com), as a dry hop.  El Dorado infuses stone fruit, watermelon and pear characteristics when used as a dry-hop.  Yum. Why a hoppy saison?  Pretty simple, really…  Smuttynose only gets one pitch of saison yeast each year for our Farmhouse Ale (shipping on May 28).  We wanted to do a second beer with this unique yeast and we had just gotten a whole shed load of El Dorado pellets.  Everything really came together nicely with this one and we think you'll enjoy it.
Smuttynose Brewing – Smuttynose Luna Moth – 750 ml. bottle poured into a goblet. 7.2% abv. Part of Smuttynose's Small Batch Series
Appearance:  Pours a bright cloudy amber gold. beautiful head that subsides to a cap.
Aroma:  Sweet citrus note, spicy yeast a slight toasted malt.
Taste:  Spicy belgian yeast, banana esters, juicy citrus.
Mouthfeel: Prickly fizz juicy full bodied.
Overall:  I love the concept and subsequent execution. I've never been a fan of the "Belgian IPA" because its usually overly sweet/malty for my liking. The dank nosed Saison however is right up my alley, with the bouquet of hops and dry earthiness of the saison yeast character.