Smuttynose Homunculus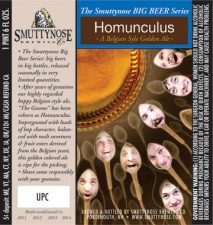 From Smuttynose: Homunculus, the newest addition to the Big Beer Series portfolio, is also the first beer to move up from our single-batch, draft-only Short Batch Series.  Inspired by "Houblon Chouffe" from Belgium's Brasserie d'Achouffe, our beer was first brewed in 2007 and was called "The Gnome."  This was a great name for an individual, draft-only release.  Once the decision was made to scale-up to a Big Beer size, we decided to change the name in respect of Achouffe's branding and image.  We chose "Homunculus" not only because it's loosely synonymous with "gnome," but also because of the word's absurdity.
Smuttynose Brewing – Smuttynose Homunculus – 22 oz. bottle poured into a goblet. 9% abv.
Appearance: Pours a cloudy amber gold with a subsided head.
Aroma:  Spicy fruity Belgian yeast, white wine, bubble gum, clove.
Taste:  Starts off spicy and bitter. Metallic. Fairly dry malt. Alcohol on the finish.
Mouthfeel:  Full bodied with modest carbonation.
Overall:  Needs time, it's too hot. Bold flavors within a great recipe, look forward to trying this again.