Sierra Nevada Beer Camp Tropical IPA
From Sierra Nevada Brewing – Beer Camp is the ultimate brewing experience. We invite beer fans into our brewery nearly every week to design their own beer and then we bring it to life. Each spring, we'll feature one of our favorite collaborations from the previous year. This year's selection features intensely aromatic hop varietals rich with the flavors of the tropics. We use Citra, Mosaic and El Dorado hops to create bright fruit-forward flavors of mango, papaya and bitter orange.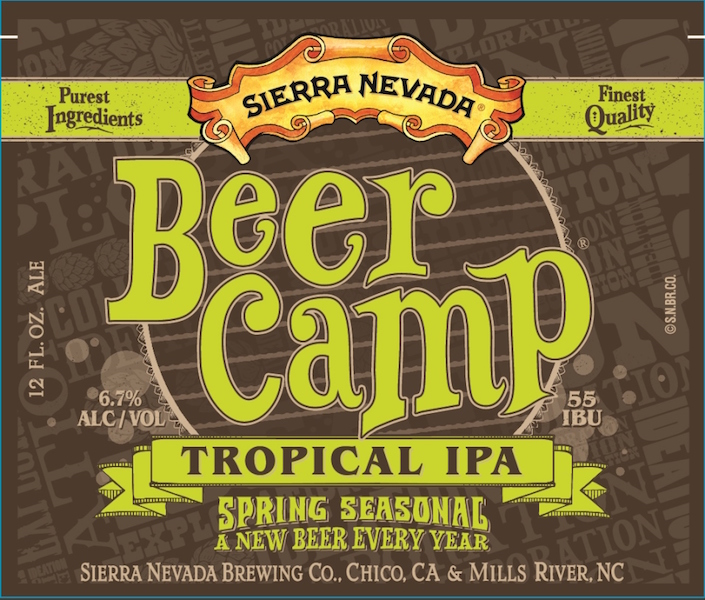 Sierra Nevada Brewing – Sierra Nevada Beer Camp Tropical IPA 12 oz. bottle poured into a pint glass – 6.7% abv.
Appearance:  Pours a beautiful amber gold. Starts with a big white sudsy head that falls to 1/4 inch.
Aroma:  Very pungent OG kush, mango, candied orange.
Taste:  A nice tangy bite of fruit, citrus pith, classic Sierra Nevada earthiness in the finish.
Mouthfeel: Medium bodied, average carbonation.
Overall:  After getting past the burst of fruit aromas from the hops, you are left with the same awesome Sierra Nevada IPA flavor profile that I've tasted under many different names over the years. I am not claiming they are all the same, but they have a striking similarity that I wouldn't be able to discern blindly. This isn't a bad thing, this is a good thing, as each and every one has been enjoyable and of high quality.  I just don't want people thinking this beer will be similar to the new IPAs with the lowered bitterness and the enhanced aroma, this is a classic Sierra Nevada beer with a very enticing name.