Samuel Adams Utopias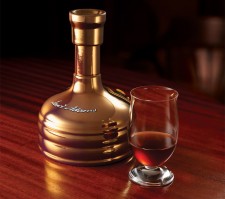 From Boston Beer Co. – The 2011 batch of Samuel Adams Utopias is a blend of liquids which have been aged in a variety of wood casks for up to 18 years. This complex aging process enhances the beer's distinct vanilla, maple and cocoa notes, and it offers an aroma of ginger and cinnamon. Sherry casks from Spain and Portugal add nutty oak, toffee and honey notes, while Madeira and port casks offer a slightly more elegant, dark fruit aroma, imparting earthy flavors inherent to fine European spirits.  The complex flavors intensify individually over time, making Samuel Adams Utopias a very special brew that becomes even better with age.
Boston Beer Company – Samuel Adams Utopias 2011 – Served at The Denver Rare Beer Tasting III – 27% abv.
Appearance: Pours a maple syrup amber.
Aroma: Maple sugar, caramel, bourbon. At first, it burns the nostrils.
Taste: Massive amounts of  maple, bourbon,oak, vanilla, toffee, hazelnut. Lots of booze.
Mouthfeel:  Thick, sticky,no carbonation.
Overall:  A wonderful luxurious treat. I think it's good enough to buy and pop out on a very special occasion.