Reviewed: Dust Bowl Brewing Mouthful of Miracles Double Brut IPA
Product description: This Double Brut IPA has a much drier finish than our classic IPAs as well as a higher carbonation level. You can still expect a big hop punch of grapefruit, guava, and passionfruit from the Galaxy, Columbus and Simcoe hops. 8.5% ABV, 50 IBUs.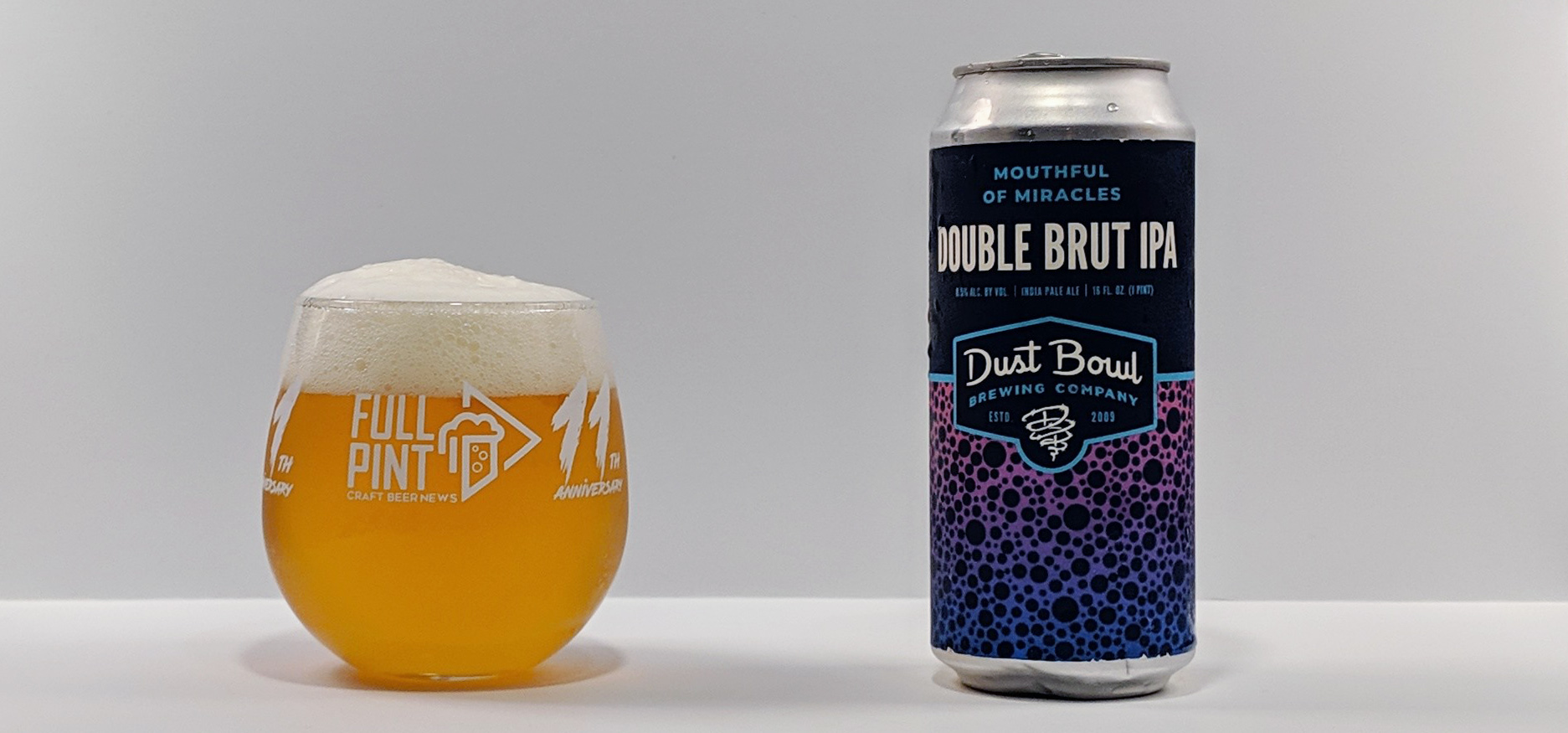 Dust Bowl Brewing Co. – Dust Bowl Mouthful of Miracles Double Brut IPA – 16oz can served in stemless snifter – 8.5% ABV
Full confession: this is my first time trying a Brut IPA. And it's my first beer from Dust Bowl Brewing (Turlock, CA). I've shied away from Brut IPA deliberately. For those that have read other reviews of mine, I'm a big advocate for sweeter, full-bodied IPAs. I'm a firm believer in balance for hop bombs. Brut IPA seems to throw that out the window and create the exact opposite of low bitterness, milkshake-like, hazy IPAs that pride themselves on dirty, unfinished fermentation loaded up with gunky, proteinaceous grains like wheat and oats. Brut IPA aims to provide a champagne-like beer with high carbonation, brilliant clarity, and a bone dry finish. The question is then, how can a beer like that cope with high bitterness? What could possibly be left to balance it out? In comes my reticence for this style. Today, you'll take the plunge with me.
Mouthful of Miracles is beautiful in the glass, which is perhaps 50% of this style's claim to fame. It's crystal clear pale golden in color with towering bleach white foam that persists for several minutes. (Some yeast sediment at the bottom of the can has clouded this one up unfortunately when I took the photo.) Bringing up the glass, there's a beautiful dry-hopped aroma of passion fruit, pineapple, and spearmint. But after a few sips, my fears have come to fruition as this beer is so dry, it has a wicking character on the palate that seems to sap every drop of saliva out of your mouth. Then you get a big slap of sharp bitterness with nothing at all for balance. Thanks to over-the-top carbonation, there's a tingling sensation on the tongue as bubbles nucleate and dance around in your mouth. And even though this has zero body with sweetness at an unholy 0/10, the high ABV doesn't manifest as another high-potency shock to the system. The big shock is apparent bitterness. It's 50 IBUs with no sugar, so the apparent bitterness is at 10/10. So just looking at those numbers, you can see why the style raises some eyebrows.
Take this review with a grain of salt. As stated before, I'm a huge proponent of sweeter, balanced IPAs. I don't beat around the bush when I say over and over again that super dry plus super bitter doesn't mix. There are a handful of exceptions with some Belgian pale ales that I can count on one hand. Since this review, I've tried more Brut IPAs from several different breweries. Dust Bowl's is right in there profile-wise and isn't some outlier. What they've done is nailed the style. The beer looks and smells divine. The balance is totally off, which is part of this style's core definition. If you love Belgian IPAs with their peppery yeast, brilliant clarity, and dry finish; Brut IPAs like this may be of interest to you. If you love classic, full-bodied IPAs; this will be so bizarre, you won't know even where to begin. I think there's a compromise to be had, though, with a Brut IPA that is lower ABV and lower IBUs. Something like a 4%, 20 IBUs Brut IPA could be refreshing and enjoyable. Because Mouthful of Miracles is so dry, it already drinks like a session IPA or small, low alcohol beer. So why not just embrace that?
Somewhere within the logic of Brut IPA is the potential for greatness. As breweries are just now experimenting with this newly created substyle, I hope to try more of these in the future as they are perfected.
*         *        *
The Full Pint is a fully independent website dedicated to bringing you the highest quality reviews of today's craft beer. Our team has no financial conflicts of interest with the beer industry in order to give you the least biased information out there in today's craft beer world. Please use the comment section below for general comments about this beer and/or our review. If you would like to see a specific beer reviewed or have general comments on reviews, please email info(at)thefullpint.com. For more information on how we review beer read here.