Reviewed: Cigar City Maduro Brown Ale
Product description: Maduro is a Northern English-style Brown Ale with some American affectations. Maduro is higher in alcohol than the common English Brown Ale and features flaked oats in the malt bill which imparts a silky body and works to mesh the roasted, toasted and chocolate components together in Maduro's complex malt profile. The end result is a remarkably full-flavored yet approachable  Brown Ale that pairs well with mild to medium cigars. 5.5% ABV, 25 IBUs, 32 SRM.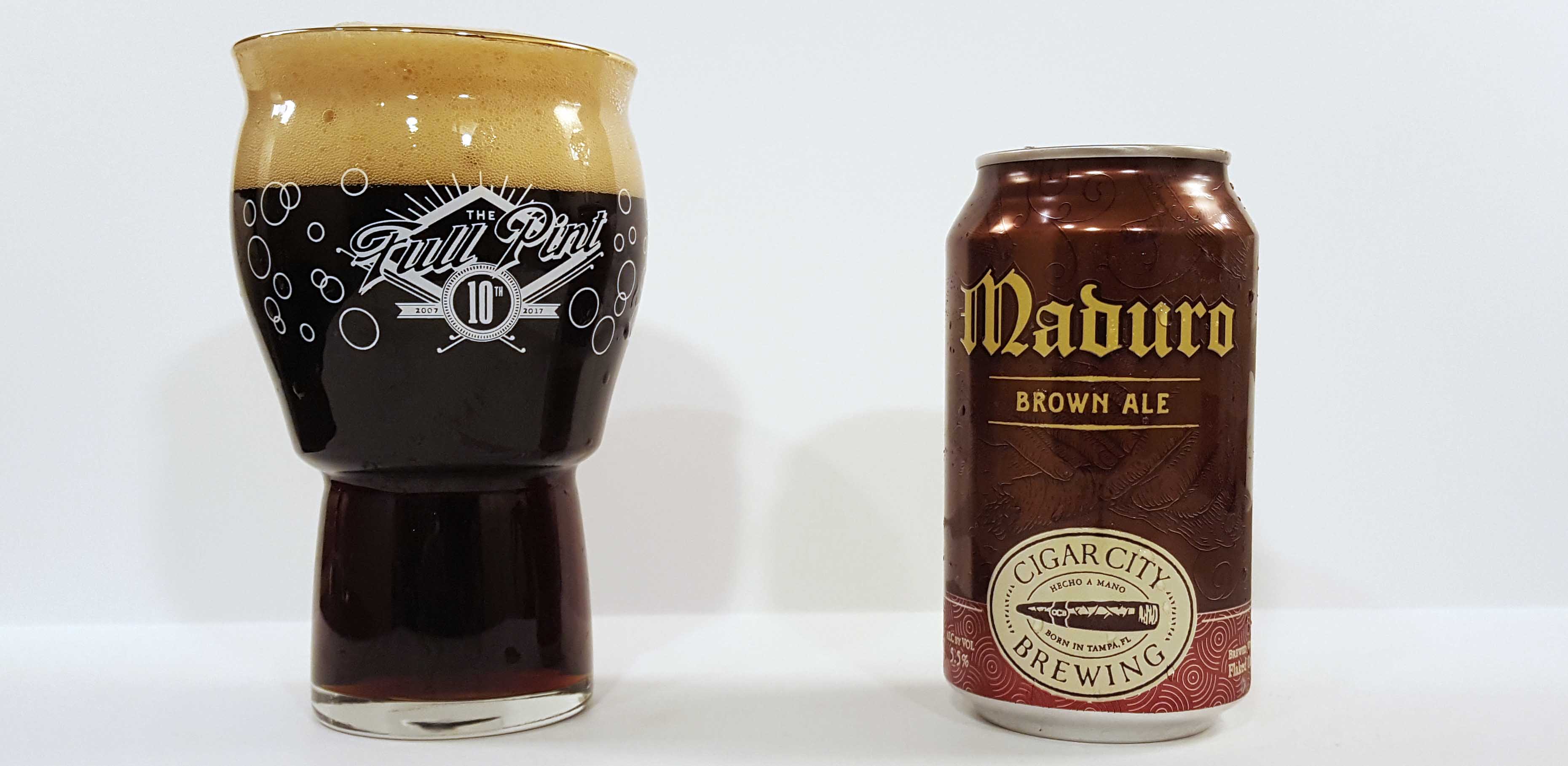 Cigar City Brewing – Cigar City Maduro Brown Ale – 12oz can poured into specialty glassware – 5.5% ABV
Cigar City has recently started distributing to Southern California and is focused on their core lineup of 12oz cans. Last month I reviewed their flagship beer, Jai Alai IPA, and walked away impressed. Today, I'm sampling what I believe is their second best-selling beer, Maduro Brown Ale. This beer has been around for almost ten years like Jai Alai. I first tried this in 2009 and noted that it was possibly the first brown ale I had ever enjoyed with flavors that were closer to a stout than a typical brown ale. The past nine years have been good to this beer, it seems, as few breweries have such a commercially successful brown ale. As for the beers showing up on shelves here in Southern California, there were some questions about where these beers are being physically brewed. Because they taste so fresh, as in the case of Jai Alai, I surmised they were brewed at another brewery in the CANarchy Craft Brewers Collective, a group that includes Cigar City. Thankfully, CCB's owner, Joey Redner, chimed in to clear it up in the comments section of my Jai Alai review. Here it is below:
"We brew at several facilities. Primarily CCB products are made in Tampa and Brevard, NC. But we also brew in Austin. Much less so in Colorado. Flavor matching is always a difficult task, but we worked it hard and had a lot of practice as we have long brewed on two systems in Tampa but proximity to the drinker is always the preferred choice for an IPA, so for western markets, we do brew in western-located breweries."
Sampled from a 12oz can packaged two months ago, Maduro comes out of the can clear brown in color looking fairly opaque and cola-like in the glass. Thick, brown foam erupts and nearly spills over the edge of the glass. It looks perfect, though darker than expected for the style. Consider that English Brown Ales can be as light as 12 SRM, which is more of an amber color. At 32 SRM, this looks closer to a porter or stout in my opinion.
Digging in, the aroma hits you with a nicely integrated medley of rye and pumpernickel bread, star anise, mild coffee, and a touch of lemon and black pepper. Warming up, the aroma becomes more savory and gains some wet tobacco. Maybe it's the power of suggestion with the Cigar City name and the cigar logo on the can, but there's something savory deep within.
Flavor-wise, this has more in common with a porter/stout than your typical brown ale with pumpernickel, fully roasted malt, semisweet chocolate, and mild coffee grounds. You also have the oats addition for mouthfeel, which gives the beer a familiar, medium-bodied oatmeal stout character. Mild acidity from the roasted malt builds after each sip to produce a lingering, lemony finish. Overall, bitterness I would say is at a 5 out of 10 while sweetness is more at a 3 or 4. It's robust but balanced and approachable. I also appreciate the higher carbonation and lack of alcohol character, which validates this as a true everyday beer. Indeed, I found that this beer evaporated from my glass much too quickly.
For those that read my review of Left Hand's Death Before Disco Porter, I sampled that yesterday and had my wife try it so I could get her take. I had her try Maduro as well without showing her the can, and she thought maybe it was the same beer as yesterday. It's not far off at all, in my opinion. Maduro is slightly lighter in color with more cola highlights showing through on the edges of the liquid. But the flavor profile is almost identical.
Perhaps the bar is set too low for brown ales, which I normally consider to be these boring, caramel malt-driven beers that just take up space in a brewery's portfolio. I don't remember ever seeking out a brown ale at a store for my own personal enjoyment. But Maduro is another story. This would make a great everyday beer for those that gravitate towards straightforward but flavorful, lower ABV dark ales. I would consider its competitors to be more in line with Firestone Walker Velvet Merlin, Bell's Porter, and Death Before Disco. Maybe Maduro is pushing the style to the limits, but what's inside the can is phenomenal.