Reviewed: Bear Republic Sonoma Tart with Guava & Passion Fruit
Official description: A pleasantly sour golden ale kissed with guava and passion fruit, [Sonoma Tart brings] delicious fruit flavors with a sweet and tart finish. Malts: 2-Row, White Wheat, Carapils. Yeast: BRBC Ale Yeast, Lactobacillus. 5.2% ABV, 17 IBUs. See the official press release for more information.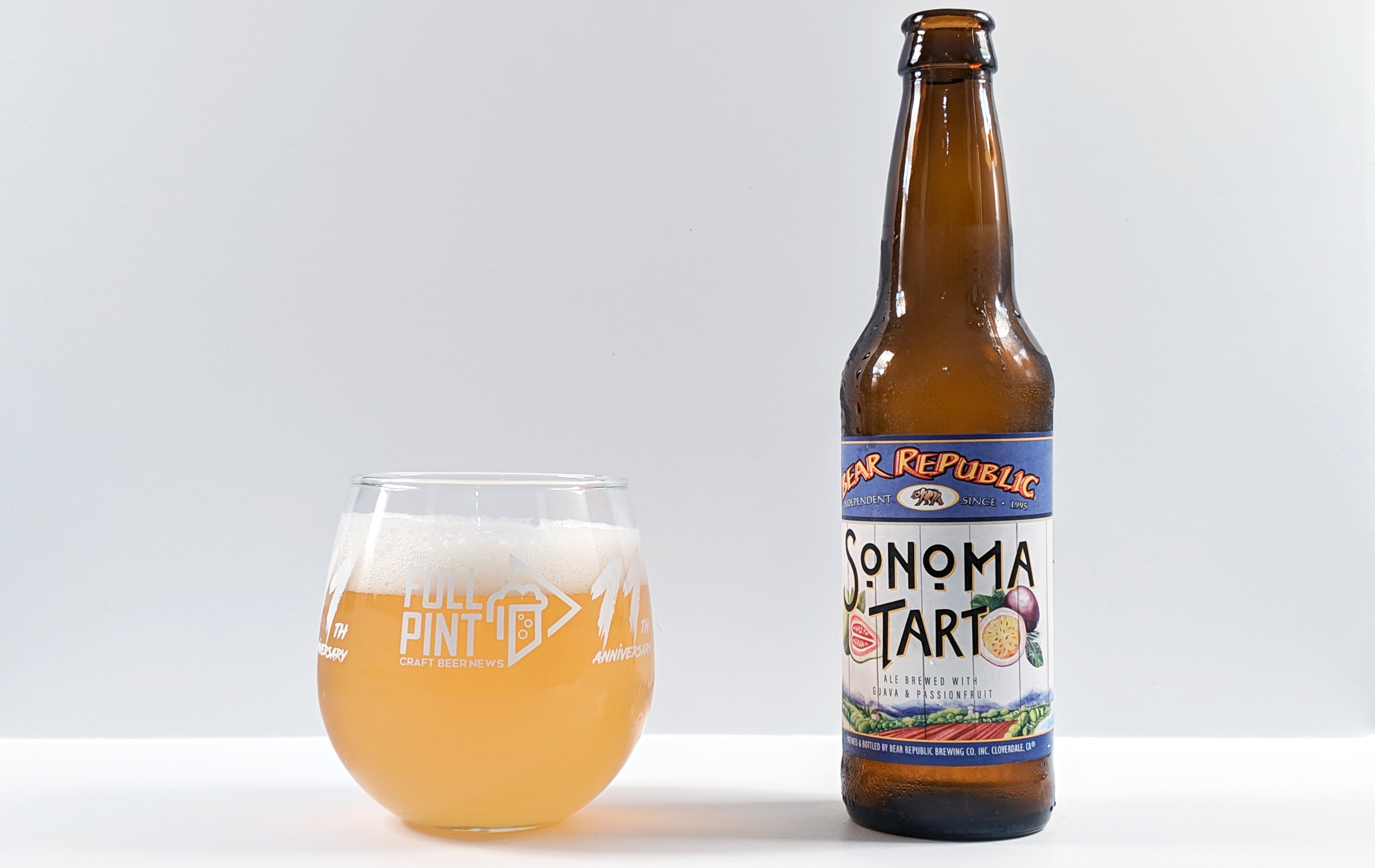 Bear Republic Brewing Co. – Bear Republic Sonoma Tart with Guava & Passion Fruit – 12oz bottle served in stemless snifter – 5.2% ABV
Sampled from a 12oz bottle, Sonoma Tart is a brilliant, pale straw color in my glass with slight haze and healthy white foam that sticks around for less than a minute before collapsing – normal for a sour beer. Real guava and passion fruit juice are immediately recognizable in the aroma, which may seem obvious, but few beers really live up their labels in my experience. On top of the tropical fruit juice is that unmistakable funkiness from the kettle souring process with lactobacillus. The beer has a cheese-like stinkiness that may be off-putting for some but is a hallmark of the Berliner Weisse style. This funkiness eventually subsides with lime blossom and vanilla cake adding a nice dimension on top.
Diving in, Sonoma Tart immediately ticks all the boxes for fruited Berliner Weisse. There's a soft, creamy mouthfeel courtesy of the wheat addition, and like other excellent kettle sours, a thick dairy-like consistency to the aftertaste. Flavors continue to be bright and spunky with white grape, moderate lactic acidity, and subtle hints of tropical fruit. High carbonation plus an especially dry finish bolster Sonoma Tart's refreshing qualities. But most impressive is that overall acidity is nicely tempered to a 4/10 level, giving it a half-sour quality that I adore.
There are certainly white wine aspects to this beer, which seem to be the overall goal of this recipe. The fruit juice addition never feels forced even being quite subtle at times. Overall, Sonoma Tart strikes me as a well-polished spring or summer session sour that just about anyone could jump right into and enjoy. It reminds me of some of my favorite kettle sours, Dogfish Head's SeaQuench Ale and Bell's Oarsman. For a brewery best known for their aggressive IPAs, Sonoma Tart is remarkably well-mannered with an exquisite base recipe. This one's a winner in my book.
*         *       *
The Full Pint is a fully independent website dedicated to bringing you the highest quality reviews of today's craft beer. Our team has no financial conflicts of interest with the beer industry in order to give you the least biased information out there in today's craft beer world. Please use the comment section below for general comments about this beer and/or our review. If you would like to see a specific beer reviewed or have general comments on reviews, please email info(at)thefullpint.com. For more information on how we review beer read here.