Review – Stone 21st Anniversary Hail to the Hop Thief Double IPA
Product description: Stone 21st Anniversary Hail to the Hop Thief Double IPA will hit stores this week, bringing with it a bold, hoppy profile, customary of the brewery's anniversary beers. The beer's distinctive combination of hops used alongside wheat malt are brand new territory for the Stone Brewing team, making it a beer to mark history, as it goes down in history.
Pekko is an under-utilized hop, which plays nicely with Mosaic to create a juicy flavor profile of orange and peach alongside just the right dankness. Grapefruit, pineapple, orange and even cherry candy come through on the fruity and floral aroma. Some wheat malt is included, adding to the nice malt backbone of the beer. Its unfiltered finish enhances the grainy characteristics of the wheat while bringing out the fresh fruit flavors and aromas of the hops.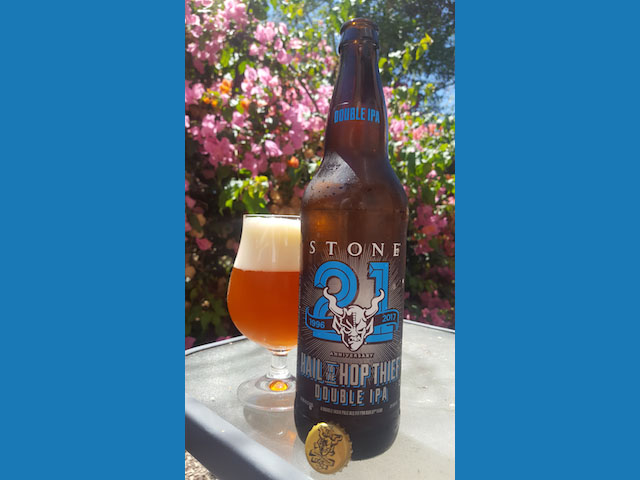 Stone Brewing – Stone 21st Anniversary Hail to the Hop Thief Double IPA – 22 oz. bottle poured into a tulip – 9.8% abv.
To my knowledge, Stone has been making an official anniversary beer since they were three years old. The first one I tried was Stone 13th back in 2009, which was an imperial hoppy red that I thoroughly enjoyed. Since then, I've tried many more of their anniversary beers including ones released before 2009 thanks to special events and from Stone re-releasing some under their Encore Series. Each one has been unique and has ranged in style from American Strong Ale to Imperial Black IPA. Even our very beloved Stone Sublimely Self-Righteous Ale, which to me is the benchmark for the Black IPA style, was originally created as a one-off, Stone 11th Anniversary Ale.
I picked this up at my local beer store ($10) directly from a freshly delivered case packaged one week prior. The case and 22oz glass bomber had the packaging date clearly visible, which is a great plus for us IPA lovers. Hardcore collectors of the Stone Anniversary series may be not super happy to see the usual silkscreen label has been replaced by clear plastic stickers, which are already bubbling and don't have the same aesthetic appeal. It's possible in a previous life that I collected them as well…
In a tulip hybrid glass, Stone 21st is fully hazy deep orange to light amber in color freshly poured. As it warms up, the haziness peters out to reveal a crystal clear burnt orange color. Ample, yellowish beige foam erupts initially and persists for several minutes clinging to the edges of the glass. The aroma begins somewhat medicinal with cherry and mint moving to dark, dried orange peel. It opens nicely as it warms to overripe melon, satsuma perfume, and orange bitters like those in an Old Fashioned.
Flavor-wise, it begins with sweet orange juice followed by bitter grapefruit juice with touches of maraschino cherry and dark alcohol. The mouthfeel is oily and palate-coating with piney, aggressive bitterness piling on in the mid-palate and backend. Despite the bitterness, I still get the dark orange, cherry, and booziness – it is 9.8% ABV – to continue the comparison with an Old Fashioned. The lengthy finish is mineral heavy and dry creating a bit of wooly astringency.
I had my wife sample this blind and she said it smelled like dough and apricots. It had a chewy, bready body with some fruit juice flavors and a slightly astringent finish. The higher ABV was apparent to her as well.
Overall, 21st Anniversary is heavier-bodied and focuses on richer flavors of dark orange and cherry. It's not your bright, crushable, no specialty malt, new age Double IPA. This is an old-school, chewy, amber IPA with punishing bitterness. And compared to other beers in this series, it's extremely tame. It doesn't use crazy hop varietals or pitch a new style like Stone 18th Golden Brown IPA. It is relatively simple and enjoyable, just not very interesting.