Stone 21st Anniversary Hail to the Hop Thief Double IPA Hits Shelves
(ESCONDIDO, CA) –Stone 21st Anniversary Hail to the Hop Thief Double IPA will hit stores this week, bringing with it a bold, hoppy profile, customary of the brewery's anniversary beers. The beer's distinctive combination of hops used alongside wheat malt are brand new territory for the Stone Brewing team, making it a beer to mark history, as it goes down in history.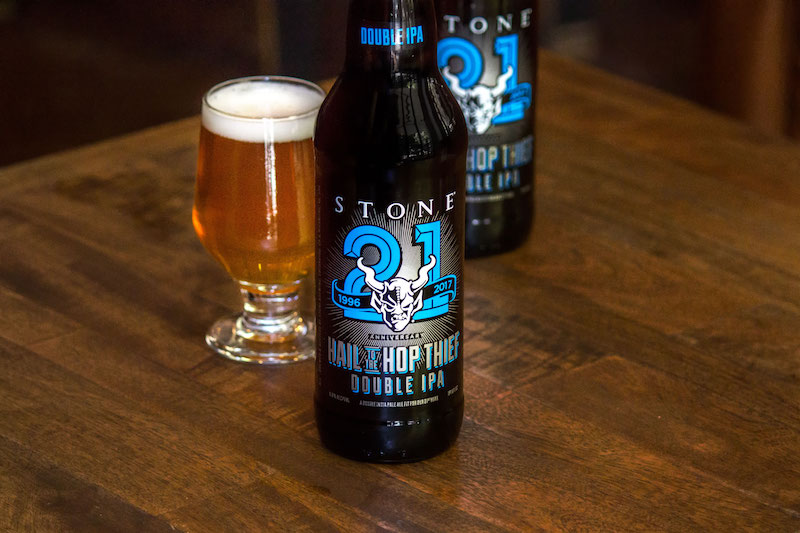 Pekko is an under-utilized hop, which plays nicely with Mosaic to create a juicy flavor profile of orange and peach alongside just the right dankness. Grapefruit, pineapple, orange and even cherry candy come through on the fruity and floral aroma. Some wheat malt is included, adding to the nice malt backbone of the beer. Its unfiltered finish enhances the grainy characteristics of the wheat while bringing out the fresh fruit flavors and aromas of the hops.
"Our anniversary is a special time of year for us to celebrate where we have been, but especially where we are going," professed Stone Senior Innovation Brewing Manager Jeremy Moynier. "This beer can stand proudly with the others as it showcases our love for brewing and beer. Sharing this love with our brothers and sisters at Stone Brewing as well as our fans, who continue on this amazing journey with us, is what this beer is all about."
Stone 21st Anniversary Hail to the Hop Thief Double IPA rings in at 9.8 percent ABV and will be available nationwide in 22-ounce bottles and draft.
"It's been said that 'nothing is original,' which infers that we've pilfered freely, stolen, thieved and otherwise taken inspiration from others in every step of our journey," said Greg Koch, Stone Brewing executive chairman & co-founder. "No problem owning that. We haven't invented beer, just given it our take. And with this beer, we took all there is to love about the IPA, got creative, dry hopped it a lot and share it openly in the hopes that in some ways it may in turn inspire others."
So the beer's name is a celebration of thieving all things that inspire. The beer itself is a celebration of a brewer, which has devoured the inspiring for a prolific 21 years.
QUICK FACTS
Name: Stone 21st Anniversary Hail to the Hop Thief Double IPA
Stats: 9.8% ABV, 80 IBUs
Availability: 22-ounce bottles and draft
Featured Hops: Magnum, Pekko and Mosaic
Distribution: Nationwide
ABOUT STONE BREWING
Founded by Greg Koch and Steve Wagner in 1996, the groundbreaking San Diego-based Stone Brewing is the 9th largest craft brewer in the United States. Recognized as an award-winning, industry leader, Stone has been listed on the Inc. 500 | 5000 Fastest Growing Private Companies list 12 times, has been called the "All-time Top Brewery on Planet Earth" by BeerAdvocate magazine twice. The multifaceted company is the first American craft brewer to independently build, own and operate their own brewery in Europe (Berlin, Germany), and also opened a production brewery in Richmond, Virginia in 2016. Known for its bold, flavorful and largely hop-centric beers, Stone has earned a reputation for brewing outstanding, unique beers while maintaining an unwavering commitment to sustainability, business ethics, philanthropy and the art of brewing…and pledging to never, ever, sell out to the man.  For more information on Stone Brewing,  please visit stonebrewing.com or the company's social media sites: Facebook, Instagram, Pinterest and Twitter.