Review – Stone 11th Anniversary Ale (2 Years Later)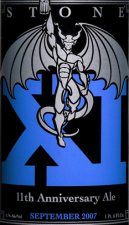 From Stone Brewing – "The inspiration for making a Black IPA (or should we say "India Black Ale/ IBA"?) has been over a year in the making. As soon as we wrapped up the brewing of the Stone 10th Anniversary IPA, we started brainstorming ideas for the Stone 11th Anniversary Ale, and the Black IPA concept was born. This was a challenging brew to formulate and achieve what we considered the ideal flavor balance of intense up-front hops with balanced roasted malt flavors, a deep, rich flavor, and a hearty bitterness. ."
TFP note – This is now a 'year round offering, going by the name of Stone Sublimely Self Righteous Ale.
Stone Brewing – 11th Anniversary Ale,Brewed in 2007, Reviewed in 2009. 22 oz. bottle poured into a pint glass. 8.7% abv. Purchased at A&J Liquor in Covina, CA.

Appearance: Pours a midnight reddish black with a rather large khaki head.

Aroma: Suprisingly a nice Amarillo hop aroma, which smells a bit like grape soda mixed with the roasty malts that I am now smelling.
Taste: Chocolate, bittering hops, roasted malts, and a very unique green vegetable like aftertaste.
Mouthfeel: Full bodied, rather thick.
Overall: The chocolate/roast really popped out after two years.  There are still a respectable level of hops in this beer as well, but nothing like when it was fresh, of course.