Review – Rogue Double Dead Guy Ale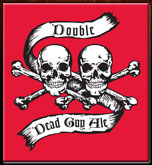 From Rogue Ales: 6 Ingredients:
Malts: 2-Row, Munich and C15.
Hops: Cascade.
Yeast & Water: Rogue's Pacman Yeast and Free Range Coastal Water.
Rogue Ales – Double Dead Guy Ale – 22oz bottle poured into a pint glass. 10.0% abv.
Appearance: Cloudy auburn with a big sudsy tan head. Leaves a big bit of lace on the glass as well.
Aroma: Caramel and green pear.
Taste: A bite of caramel followed by a mouthful of mild hops. Leaves a bready aftertaste much like regular Dead Guy Ale.
Mouthfeel: Thick and full, bordering on syrupy.
Overall: It was better than average, but not very complex. I could see interesting things possibly happening with age. Too expensive to bother with again.