Review – Pike Monk's Uncle Tripel Ale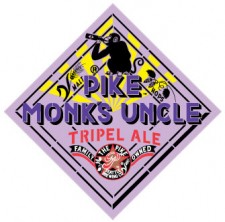 From Pike Brewing – Monk's Uncle Triple, brewed as a spring seasonal, became the first Pike beer to use Belgium yeast. Introduced at Brouwer's Cafe in Seattle, it became a cult classic, selling out at each release. Monk's Uncle won the NW Brewing News Readers Choice award for "Best Belgian Ale" 2008. With the addition of more fermentation tanks to expand the brewery's capacity, the decision was made to add Pike Monk's Uncle Triple to the Pike lineup of beers brewed year round. Since the yeast, a strain from Westmalle Monastery, could now be propagated from one batch to the next as the brewery has done with its English style yeast since 1989, it was decided to brew Pike Tandem with the same Belgian ale yeast as well.

Pike Brewing Co. – Monk's Uncle Tripel Ale – 22 oz. bottle poured into a goblet – 9% abv.
Appearance: Dark yellow gold with a pin stripe of bubbles.

Aroma: Dry and fruity yeast, and some cloves.
Taste: Dry malts, fruity yeast, spicy hops, and citrus fruit.
Mouthfeel: Juicy.
Overall: Really good, and in my mind, pretty authentic-like.