Review – Founders Curmudgeon Old Ale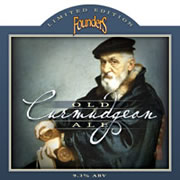 From Founders Brewing – This Old Ale conjures up thoughts of classic sea fairing ports, there local pubs and the weathered fisherman that frequent them. In traditional style Curmudgeon is brewed with an intense focus on the malt bill creating a very strong, rich, malty characteristic and a sweetness indicative of its cousin the barleywine. We are especially proud of the balance in this beer making it deceptively smooth and drinkable at 9.3% alcohol by volume.
Founders Brewing – Curmudgeon Old Ale – 12 oz. bottle poured into a taster glass. 9.3% abv. Acquired by trade.
Appearance: A cloudy dark orange with noticeable floaties throughout.
Aroma: Faint whiffs of caramel, dried fruit and chocolate.
Taste: Chocolate, gummy bears and bitter hops.
Mouthfeel: Thick and syrupy.
Overall: Non offensive, but not impressive. I got passed the weird floaties dancing in my glass, but there wasn't enough of any of the characteristics listed to make this beer stand out.