Review – North Coast Old Stock Ale 2007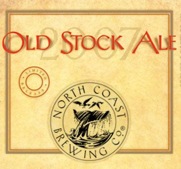 North Coast Old Stock Ale 2007 poured from a 12 oz bottle to a New Belgium Glass. 11.7% abv.
Appearance: Burgundy red with white trim at the top.  A small amount of light can get through the glass, and appears to be quite cloudy.
Aroma: Apple cider, pear, brown sugar, and sweet, unsmoked pipe tobacco.

Taste: German chocolate cake, sauteed apples, cinnamon, brown sugar, and bourbon.  There is an alcohol warmth, and a small amount of hop spice in the finish.
Mouthfeel: The fruit notes give it a juicy texture, and I would say that it is not that syrupy for being a close relative to a barley wine, and nearing 12% abv.
Overall: A mighty magnificant beer. I had a 2006 Vintage with TheFullPint's Mike last Winter as was impressed at how even better this ale gets with age.  The best offering from North Coast, which is hard to choose, and a wonderful treat in the name of beer.  Pick up the 2007 while you can, as 2008 will be slowly popping up on shelves where North Coast Brewing products are sold.  They come in a four pack. Try to drink two, and save two, as hard as that may be!