Review – Full Sail Black Gold Imperial Stout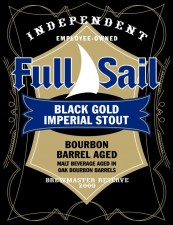 From Full Sail Brewing – This highly anticipated release from our vintage barrel series has been a Full Sail brewing tradition since 1998. Every year since, our talented team of brewers brew an Imperial style dark ale and fill roughly sixty oak bourbon barrel casks, then age them in our cellar for about a year.
Full Sail Brewing – Black Gold Imperial Stout Bourbon Barrel Aged – 22 oz. bottle poured into proper glassware. – 10.5% abv.
Appearance: Pours a midnight brown with 1/4 inch of frothy tan foam.
Aroma: Roasted malts, bourbon, wood, and vanilla.
Taste: Vanilla, roasted malts, chocolate, bourbon, and coffee.
Mouthfeel: Silky and velvety.
Overall: A wow beer made by Full Sail. This and LTD 02 are tied for my favorite from them.  Tons of bourbon notes, and should age extremely well.