Review – Founders Porter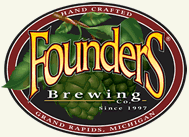 From TFP: The bottle says "Dark, rich, and sexy." 45 IBU's. Let's find out for sure!
Founders Brewing Co. – Founders Porter – 12 oz bottle poured into a pint glass. 6.5% abv. From Josh in Indiana!
Appearance: Pours a dark brown with little to no head.
Aroma: Strong aromas of espresso, roast malts, and chocolate. There are spicy hop notes, that blend with the carbonation level. Either way, there is a nice spicy tickle on the tongue after the roastiness makes way for the finish.
Taste: A bitter espresso coffee flavor starts it off. It finishes with chocolate and burnt malts.
Mouthfeel: Very fizzy on the tongue. Much more full than Breakfast Stout. The flavors linger long after the sip.
Overall: A top notch porter, with tons of flavor, and a unique mouthfeel.